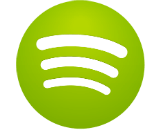 Although Google's purchase of Songza is signed, sealed, and delivered, the tech press is still buzzing over the idea that the service wasn't the primary acquisition target. Spotify has been the subject of frequent rumors about a buy-out by the search engine conglomerate.
The latest one stems from The Wall Street Journal. The paper cited an unnamed source and its own assessment of Google's Securities and Exchange Commission correspondence and determined that the two companies had at least started talking about a deal in late 2013. However, it said the negotiations broke down for two main reasons. First was the lofty price Spotify was allegedly seeking. The company was valued at about $4 billion at the time but was apparently looking for more than $10 billion to seal a deal. The paper also cited Google CEO Larry Page as having little interest in subscription entertainment services.
This paints a convincing picture, but the Re/code's Kara Swisher cast doubts on the assumptions. She spoke with her own unnamed sources at Spotify and Google and reported that there has not been any talk of a deal. "There was never a price, never a negotiation, never anything," one insider said. Her sources also questioned the statement about Page being uninterested in subscription business models.
Where does that leave us?
Whether or not Google made an offer for Spotify, many people seem to want to see the streaming service under the protective wing of a big buyer. It would certainly fit the recent trend of consolidation and closer ties between music and tech. But the question for Spotify is whether such a move would be good for its business.
Would a buyer open up better deals for licensing or improve relations with artists? Would they have the know-how to build on the already excellent user experience? Would they make the service profitable?
Spotify already has strong business relationships — both Sprint and Viacom among them — so it isn't hurting for powerful partners. It's just possible that the service can achieve financial success on its own terms.