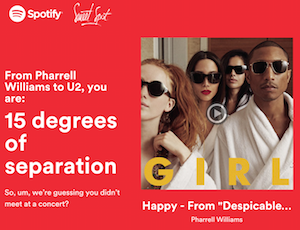 In honor of tomorrow's holiday of hearts and roses, Spotify has given us the most romantic gift of all: data. The company analyzed the songs appearing on the millions of playlists on its platform that center on "Valentine's," "love," and "sex" and shared the top tunes for each.
The Love playlists trended contemporary, with John Legend's 2014 hit "All of Me" topping the list, followed by Rihanna's "Stay," Justin Timberlake's "Not a Bad Thing." and Beyonce's "Drunk in Love." Most Spotify users seem to go more old school for their Valentine's lists; the top songs were by Donna Lewis, Berlin, Seal, Spice Girls, and N'Sync. And for the Sex playlists, the most commonly found song was "Intro" by The XX, a 2 minute-long instrumental track. No comments on that.
Those songs can get you started on your way to a solid V-Day playlist, but for listeners who want something more personal, Spotify also has you covered. The service launched a Valentine's Day playlist generator called "Sweet Spot" that curates a set of tunes based on the favorite artists of you and your honey. Just remember, shared music tastes aren't required for everlasting love.
Happy Valentine's Day!