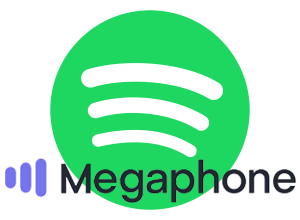 Podcasting consolidation continues, as Spotify — an acquisition giant in the field — announces that it is buying Megaphone, one of the world's leading podcast hosting and ad-tech companies. The deal represents not only Spotify's growing imperialism in the podcast space, but the deepening influence of modern ad technology and audience targeting on the business of podcasting.
"The acquisition of Megaphone represents the next step in Spotify's expanding the possibilities of this intimate and screenless medium," the company said in this morning's post. That statement is quickly followed by a reminder of Spotify's Streaming Ad Insertion technology which was launched early this year. connecting that innovation with the Megaphone grab clarifies that the acquisition is all about advertising, ad tech, and precise audio targeting.
Both these companies are essentially technology firms, creating their businesses by effectively connecting marketing with audio listeners. Podcasting has done that for years with the unique effectiveness of host-read sponsorship endorsements. While effective, that marketing mode limited the revenue growth of podcasting, leaving out brand marketers who are accustomed to digital ad environments that make instant deliveries to highly characterized users. In podcasting, adopting modern advertising techniques requires a willingness to pre-record ads (even host-read messages) and dynamically insert them into shows as they are downloaded or streamed. That is the business world represented by the Spotify/Megaphone merger.
Megaphone grew out of Panoply, as the hosting side of a content development network. Panoply was a spinoff of the Slate publishing enterprise. In September, 2018, Panoply exited the content business abruptly, just a week after presenting its shows at the IAB Podcast Upfront. Six months later, in March, 2019, "Panoply Megaphone" finally ditched the Panoply part of its name, rebranding as Megaphone.
Podcasters on Spotify will be enabled to opt in to Megaphone's monetization tools. And conversely, Megaphone clients will be offered Spotify's Streaming Ad Insertion technology.
"From groundbreaking authentic voices to can't-miss news and information, podcasting is one of the most exciting mediums of our time. We are excited to collaborate with Megaphone to drive this business forward," Spotify said.
.