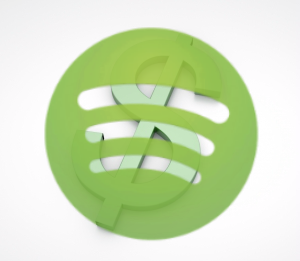 Spotify has sent an email to Apple iOS subscribers, suggesting they cancel their Spotify Premium accounts, if those subscriptions were purchased through the Spotify app, and re-subscribe on Spotify's website.
The reason for this surprisingly suggested workaround is to save money. A Spotify Premium plan costs $13 when purchased through iTunes, and $10 when bought directly from Spotify. "The normal Premium price is only $9.99, but Apple charges 30 percent on all payments made through iTunes," Spotify said in the subscriber email acquired by Engadget.
There is an implied blame of Apple in Spotify's communication that could be misplaced. While it is true that "Apple charges 30%," it is clear from Apple's developer documentation that the 30% charge is levied to developers, not to the end users of developer apps. Apple takes a 30% revenue share of purchases of "premium content" and "subscriptions" within iOS apps. The pricing of those products remains under developer control. Apple's language does not indicate any pricing control: "And just like apps you sell on the App Store, you receive 70% of the purchase price."
Spotify is not the only app developer which passes the 30% rev-share loss to its users, making them pay extra for the convenience of easy subscribing through an already established iTunes payment account. Music service Rdio does the same thing, as documented in this FAQ. "There are no additional benefits when purchasing your subscription through iTunes," Rdio says. "The only difference is the price — this is due to Apple's policy of taking a percent cut of all subscriptions created through the iTunes service. To subscribe at the normal rate, you will need to cancel your iTunes subscription and resubscribe through Rdio.com directly." Rdio provides instructions for unsubscribing and re-subscribing.
It might be good business to inform users of the cheapest subscription plan, though creating discontent in customers is a questionable tactic. At the same time, there is nothing inherently wrong  with Apple's business plan of claiming a share of revenue derived from distributing on the world's second-largest mobile platform. (Android, the most popular mobile operating system, does not claim any share of app subscription revenue.)
The timing of Spotify's communication, soon after Apple's launch of a competing on-demand music service, cannot be ignored. It must be particularly galling to Spotify that Apple is potentially luring users to its own service, and taking a portion of Spotify subscription payments. The risk of Spotify's communication strategy is that subscribers will cancel their Spotify/iTunes subscriptions, as Spotify recommends, and sign up for Apple Music's three-month trial. The advice here, for what it's worth, is for Spotify to drop the in-app subscription price to $10, eat the loss, hand the saving to subscribers, and retain its users. Complaining isn't aggressive business. Pricing is.