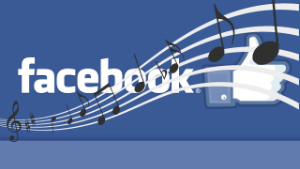 UPDATE: The social media juggernaut spoke to Billboard following yesterday's leak at Music Ally. Facebook said in a statement that it has "no plans to go into music streaming." A major label source also told Billboard that on-demand audio streaming hadn't been part of the discussions with the social platform.
All we can know for certain is what Facebook's people say, so for now it appears that music video monetization will be the only big development the social network makes into this industry.
Original post:
Music Ally has leaked information that elaborates on our previously reported plans for Facebook to collaborate with the music industry. Sources from the social media network have allegedly told Music Ally that Facebook has plans to launch a music video component that will rival YouTube, followed by an audio streaming service to take on Spotify.
The sources reportedly detailed a model where Facebook will pay royalties to music video rights-holders equal to those they receive from YouTube. Depending on the how well the music videos can sync up with Facebook's ad-targeting capabilities, Music Ally said that it could be possible for the social network's royalties to surpass those offered by YouTube. In addition, Facebook is expected to provide an identification and monetization system akin to YouTube's Content ID.
"Facebook going into the video space was always going to be an enormous, ambitious land grab and no doubt something they've been planning for some time as the potential income from ad revenue will be incredible," one of the sources said.
Once the video system is in place, Facebook may apparently follow it up with the addition of an audio streaming platform. The details about that angle to the plan are more hazy, and Music Ally did not have much information. The only detail the site's sources allegedly provided is that Facebook is more likely to build a streaming service in-house rather than acquire an existing platform.
If this is really Facebook's plan, it seems to have a similar philosophy to entering the industry as Apple did: get fast adoption (and hopefully high revenues) by leveraging an existing audience. Facebook has a built-in audience of more than a billion, so that part is well-covered. The network's experiments with video have appeared to be successful thus far, with 3 billion videos viewed on the site daily, according to its Q4 earnings call. That's another tick mark in its favor. And with a less-than-optimal user experience at YouTube, leading with a video feature seems like a smart move for Facebook.
If the planned music video features are integrated well into the existing social service, then it's possible that a large proportion of Facebook members will quickly hop on the bandwagon, which could clear the way for an interesting new player in the streaming audio field. In any case, we'll be watching closely for any formal announcements from Facebook in the coming weeks and months.