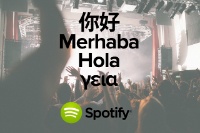 As jubilantly announced on its public blog ("Hello Argentina, Taiwan, Greece and Turkey — Spotify here!"), the interactive streamer has expanded its reach. With the addition of those four, Spotify now distributes its desktop and mobile app experiences in 32 countries. The deal is standard Spotify: free, ad-supported desktop listening, a subscription tier to eliminate the ads, and a higher sub plan for mobile streaming and downloading.
Here are the international ranges of other music listening platforms:
iTunes Radio: U.S. only Xbox Music: 22 countries (free streaming available in 15)
Google All Access: 11 countries (U.S., Australia, added nine European countries in August)
TuneIn Radio: 80 countries and territories (see here)
iHeartRadio: U.S. only
Pandora: three countries (U.S., New Zealand, Australia)
Rdio: 31 countries
Rhapsody: 17 countries (some non-U.S. apps are branded as Rhapsody-owned Napster)
Slacker: U.S. and Canada
Songza: U.S. and Canada
As a counterpoint to the relentless regional agnosticism of internet radio (notwithstanding streaming broadcasts featured on TuneIn and iHeart), you might want to read remarks delivered by FTC Commissioner Ajit Pai (PDF) at last week's Radio Show luncheon. In his speech, Commissioner Pai held forth on the value of localism, before discussing revitalization of the AM band.