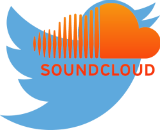 SoundCloud has tightened its integration with Twitter. The online platform's audio cards can now be embedded into tweets that appear in Twitter Moments.
The Moments feature of the social media network collects tweets centered around whatever the world's biggest topics are at any given moment. The multimedia experience includes news headlines, text, images (and now music) centered on any buzz-worthy topic. People can follow general subjects within the Moments umbrella, and yes, there is a music one.
SoundCloud was Twitter's first partner in launching audio cards back in October 2014.