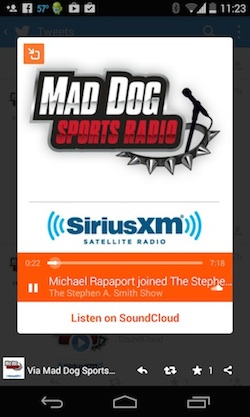 Twitter has introduced a musical new feature called the Audio Card that allows its members to embed a track in a tweet. The social network is first working with SoundCloud on the launch of the feature, and a select number of partner artists are rolling out the feature today. With the initial rollout, the included partners will be able to embed music, podcasts, and other audio types. The social network said that its @TwitterMusic handle would announce updates about the people and organizations using the Audio Card.
Twitter is also partnering with iTunes on the feature, but only one song from the Apple catalog can currently be used: the latest single from the new album by the Foo Fighters. VentureBeat reported that more songs would be available in the future from iTunes.
The social media platform has been dancing around a serious tie-up in the music industry for some time. In fact, Twitter was rumored to have an interest in buying SoundCloud back in May. It also spent a large chunk of time trying to develop Twitter #Music into a viable in-house service, but that also started to fade back in October 2013.