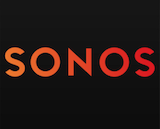 Sonos announced that it is adding some third-party app integrations to its wireless speaker products. Most intriguingly, one of the first partnerships for app support is with Amazon. People who have both Sonos speakers and one of Amazon's Alexa-enabled devices – the Echo or Echo Dot – can now use the Amazon voice-controlled product to operate their Sonos system.
"Our mission is to fill every home with music," Sonos President Patrick Spence said. "We don't care what you listen to, how you get to it, or in what room – we just want it to be effortless, quick and epic. Alexa on Sonos will be all that, and fun too."
In the spring, Sonos announced a pivot to make its speaker platforms more friendly to both streaming music subscriptions and voice controls. The arrival of the Echo was clearly a cause for concern. CEO John MacFarlane spoke about the Amazon tech with admiration in discussing the change, but his missive made it seem like Sonos would be walking the path solo. A partnership with the tech giant may be a safer approach for Sonos to offer those features without needing to create the features from scratch.
In addition to the Amazon deal, Sonos now has Spotify Connect integration. This development means Spotify users can control the music from the Spotify app instead of only the Sonos one. The company expects to add more direct controls for other music services, including Pandora.