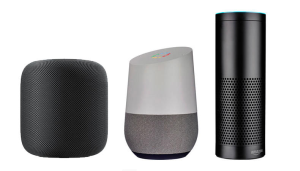 Audio company Bose, maker of market-leading noise canceling headphones, has upgraded its flagship headset with optimization of Google Assistant, the intelligence built into Google Home smart speakers. Google Home is currently the chief competitor to Amazon Alexa in the still-new voice-activated speaker niche. This integration, which connects the headphone-wearing user with an Android device via voice activation, is significant because it implies that — as with smartphones — the ecosystem is the product.
It's time to start thinking of smart speakers as specialized products in an artificial intelligence ecosystem that potentially includes many devices, and does not necessarily include the flagship devices (e.g. Echo, Dot, Google Home).
Putting Google Assistant into headphones instantly makes it mobile, which is a startling and meaningful expansion of an operating system which is gaining wide recognition as an in-home product, in populations that aren't necessarily early adopters. The good news for audio publishers who see voice-activated speakers as replacements of fading in-home radios is that they might also become substitutes for mobile apps which are not voice-activated, and therefore more clumsy to use in mobile situations. Imagining voice activation as a universally available user platform — in the home, in the car, on the street, in airplanes — is a broad and essential opportunity for radio stations and streaming music services alike.
Noise-canceling headphones like the new Bose model are seen mainly in airports and on planes. They are overkill for walking around, or wearing in an office. But I wear a small Bluetooth earpiece all day for business phone calls. My Android v7.0 phone has Google Assistant built-in — it works similarly (not exactly) to the Google Home in my house. This means that I can listen to voice-commanded podcasts while grocery shopping, and still keep my hearing for the outside world. Or, get Google GPS instructions murmured in my ear while driving. Or get time, weather, and news anywhere, by touching my ear and asking for it.
For Google and Amazon, Home and Alexa have been ecosystem plays from the start. Alexa makes it dangerously easily to purchase Amazon products, and is optimized for Prime Music. Google Home will eventually be in all Android phones — that's over two-billion devices right now. Microsoft Cortana exists in Windows 10 now, and a stand-alone smart speaker is coming. Apple's HomePod (December launch) will be an extension of Siri, which has been an ecosystem assistant for years.
The world's biggest tech companies are ecosystem developers, bundling hardware and services into a complete digital lifestyle for the consumer. Voice is the new interface, frictionless and intuitive compared to keyboards, touchpads, mice, and buttons. It's going to grow fast. At the recent RAIN Summit Austin, Larry Rosin predicted that this holiday season would be huge for smart speakers. The best way to think about all this? Voice is a platform, not a device, and will eventually exist everywhere. That perspective enlarges the stakes, and deepens the urgency, for all audio publishers to get up to speed with skills and content.