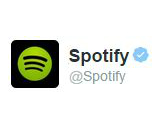 With podcasting top-of-mind in the online audio industry, a potential new player is Spotify, according to unnamed sources reported by Bloomberg Business.
Spotify is reportedly in discussion with multiple on-demand content providers, in what Bloomberg describes as a potential challenge to Apple. Apple's iTunes platform is the biggest directory and distributor of podcasts. The rumor emerges as Spotify is negotiating with record labels for new music licenses, and as Apple prepares a re-launch of Spotify competitor Beats Music, which it acquired last May.
A podcast segment in Spotify could be convenient for the company's 60-million global users, and a sharp stick Apple's ribs. Spotify might also be contemplating a catch-up to Deezer, a direct, mostly non-U.S. on-demand music service which purchased podcast app Stitcher, integrating Stitcher's 35,000 on-demand programs with the Deezer music library.
Whatever the strategic motivations, and however real the rumor, on-demand talk programming is attaining a new viability next to music in streaming audio. Apple had the foresight to establish a distribution portal early, and create a near-dynasty. But choices increasingly abound. And as listeners look for the best app for searching, discovering, sorting, saving, and hearing podcasts, there is compelling logic to bundle that feature set into the leading on-demand music service.