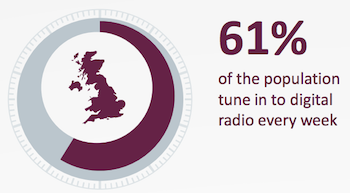 The third quarter data from RAJAR has been released, with the latest information about radio listening in the UK. The rate of weekly listening remained steady at 90% of the adult population, or about 49.1 million people. In Q2 2017, the rate was 90.3% and it was 89% in Q1 2017. The average listener tunes into 21.3 hours of live radio a week.
Digital radio listening continues to grow in the UK, with 61% weekly reach for the period. The digital share of all radio listening has steadily risen since 2011, with a 48.8% share in Q3 2017. That equates to 33 million UK adults tuning in to digital radio each week.
DAB sets are the most common source of digital listening at a 35.9% share. Online and apps have an 8% share and digital TV has a share of 4.9%. DAB sets also lead based on listening time, with 376 million hours and a 74% share. Total digital listening hours reached 511 million.
Finally, mobile listening did inch up slightly from the Q2 2017 results. At least 28% of adults listen to radio on their mobile phones or tablets at least once a month. There are also 8.7 million adults who say they listen to radio on earphones.