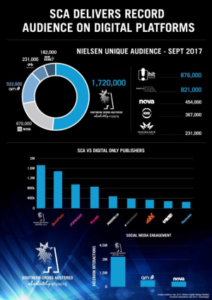 Leading Australian radio/TV network Southern Cross Austereo (SCA) released an infographic disclosing audience metrics on digital platforms in September. It is a chart full of comparisons.
SCA acquired more digital traffic than competing radio groups Australian Radio Network (ARN) and Nova — neither of which owns television stations. SCA also gathered digital audience metrics for digital only media brands like BuzzFeed and POPSUGAR, each of which SCA bested for the month.
"We believe we are the best and we're not ashamed to say it," said SCA Head of Digital Content Chris McWilliams of the unabashedly bragging report.
The data in this report is all Nielsen.
"I'm continually amazed and proud of the SCA Digital Content team as we continue to connect with Australians better than any other Radio outlet," McWilliams. "These huge audience metrics are a testament to the high quality stories and content we deliver to the Triple M and Hit Network communities on digital platforms."
SCA owns 26 mobile apps, which have garnered total downloads of 1.2-million. The Australian continent has a population of about 24-million.
Unsurprisingly, the report is targeted to ad buyers. "This result will give buyers of radio and digital confidence that working with SCA's digital assets delivers," said Steve Brown, Head of Digital Sales & Operations.