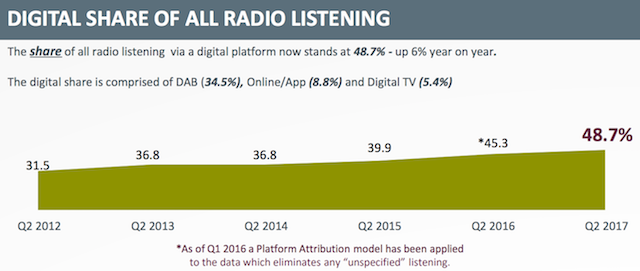 ---
RAJAR has published its Q2 2017 data about radio listening in the UK. The weekly radio population continues to stay steady, with 90.3% of the population tuning in each week. The figure did rise by about 500,000 adults over the second quarter of 2016, but it has hovered around 90% for several quarters. The average listener heard about 21 hours of live radio per week during the recently-ended quarter.
Digital listening continues to edge higher as a percentage overall radio consumption. In Q2 2017, the digital share reached 48.7% of total radio listening. The data found that 61% of the adult population listens to a digital radio platform each week. Digital listening generates 503 million hours of listening in an average week.
DAB sets are still the source of most digital listening (71%) with 357 million hours weekly. The 18% share held by online listening totals 91 million hours per week. Digital TVs are responsible for the remaining share; "unspecified" listening was eliminated from the platform attribution model starting in Q1 2016.
The RAJAR results also reflected the growing role of Mobile devices for radio listening. The survey showed that 27% of adults tune in at least once a month on their smartphone or tablet. In Q1 2017, the rate was 25%.