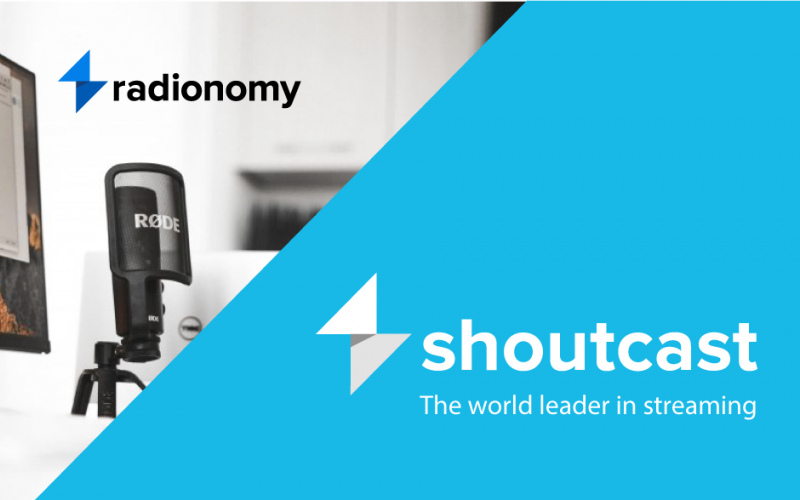 In a completion of an initiative started earlier this year Radionomy has announced a merger with Shoutcast, effectively shutting down the former and offering producers one-click migration to an upper tier of Shoutcast called Shoutcast for Business. U.S. streaming was ended in May with the same offer; today's announcement is global.
As in the U.S. action, Radionomy is pitching this action as a benefit to producers — "a new step in the professionalization of digital radios" that characterizes  Shoutcast as the historical leader of internet radio streaming, and "the big league of professional web radio." The normal Shoutcast for Business service fee is waived for one year.
In the Radionomy Producers/Managers page on Facebook, reaction is mixed, from a full-steam-ahead attitude to some confusion with the migration details.
On paper, the migration is a one-click affair. Logistical headaches like re-uploading gigantic libraries of music and finding a new automation system are obviated by a seamless transition to a sibling platform which uses many of the same tools. Radionomy is a sprawling audio/streaming tech company that includes the once-flagship streaming platform, Shoutcast and desktop player Winamp which it acquired from AOL, and digital audio advertising technology company Targetspot.
There is one important operational difference for producers migrating from Radionomy to Shoutcast: Shoutcast does not handle accounting and payment of music royalties. That responsibility falls to producers, some of whom are running semi-professional or hobby stations. Some operators in the Facebook group are seeking basic information about how music licensing works.
Shoutcast, which was founded by a startup called Nullsoft in 1997, along with Winamp, a computer desktop MP3 player, is arguably the godparent of internet radio. Currently Shoutcast claims over 50,000 internet radio stations. Earlier this month Targetspot executive Adam Pattison (Managing Director, UK & Ireland) presented slides at RAIN Summit Europe describing new development of Winamp as a hub audio player that will work with many different streaming services.