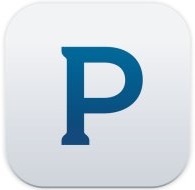 As noted in Audio4cast, Pandora landed in 8th place in comScore's measurement of top smartphone app usage for August. This metrics category is different from smartphone audience via the phone's browser. Some top-15 media properties (like Gmail) might have their app ranking cannibalized by browser use, and others (like Twitter) by a multiplicity of popular apps that are lower on the list.
But Pandora's ranking is fairly pure, as the service doesn't work in a mobile browser, and there are no alternatives to the official Pandora app. On comScore's browser-plus-app usage list, which is invaded by web-based behemoths like Yahoo!, Amazon, and AOL, Pandora holds its own in 9th place.
P's reach is measured at 43.3 percent of the app audience, which is a remarkable testimony not only to Pandora's footprint, but to Internet radio generally, if you consider Pandora as a proxy for the medium and the consumer model it represents. If you took away ecosystem-branded apps that enjoy a built-in smartphone advantage (Google Search, for example), Pandora would rise to third, after Facebook (75.7%) and YouTube (52.8%).
Social, video, and music are the chief app-based pureplays — with each wedging into the others' territories to some extent.