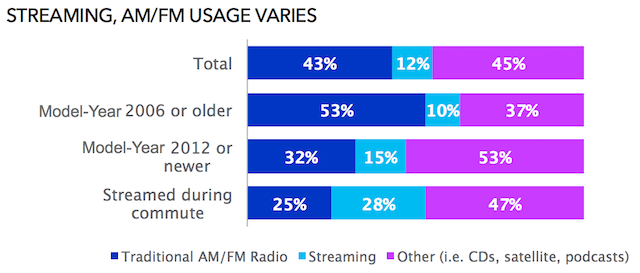 Yesterday, Edison Research published consumer research into listeners' habits for radio listening in their cars. Pandora has released its own whitepaper featuring the Edison findings, but also sharing some more insight into listener behavior during their commutes.
The paper reiterated many of Edison's top findings, such as 90% of commuters listening to terrestrial radio but switching stations an average of 22 times per trip. But it revealed that commercials were the top reason for that channel-flipping, followed closely by disliking the currently-playing song.
Interest in controlling song choice had a bigger impact than just surfing stations: 40% of commuters connect their phones to their cars regularly in order to hear what they want. Because of this habit, 59% of commuters who plan to buy a car in the next year called connected dashboards an "important" factor in their decision.
Pandora projected that the rate of connected cars sold "will only continue to grow as more people upgrade their vehicles and as the demand for digital and streaming increases. Audio advertisers who rely on reaching consumers in the car should take note."
For cars older than model year 2006, more than half of the music comes from traditional radio (53%). But the streaming music percentage rises for more modern vehicles. Although its share of the total is just 12%, among cars newer than model year 2012 it's 15%.