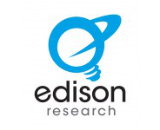 Edison Research, home of The Infinite Dial and Share of Ear research projects (as well as the exit polling you hear so much about during this presidential primary season), today announced a new consumer survey project cleverly called Hacking the Commuter Code. While the full study is available to subscribers, Edison publicly released an interesting blast of results that reveals how and why drivers switch stations.
The headline bullet point is that American drivers switch AM/FM stations 22 times per commute, on average. That's not a typo. Twenty-two. (Commute time is 20 minutes or more.)
"Even as in‐car audio use continues to evolve, Americans remain 'button punchers,'" Edison said. "Nearly 75% of those who consume audio in the car are likely to switch at least occasionally over the course of their commute."
Drilling into the switching habit, Edison identified three groups:
The Restless: over one-fifth of respondents (21%) "constantly" switch.
The Seekers: over half of the survey (52%) "occasionally" switch, perhaps more purposefully than the Restless cohort.
The Keepers: 27% are evidently more easily satisfied, and "mostly" stay with one choice.
Hidden from the public release, but of vital interest to companies with a stake in how in-car listening is changing, are metrics around how listener attributes correlate with the Restless/Seeker/Keeper categories — for example age, and what type of audio they are choosing.
Edison does disclose that commercial breaks drive some, but not all, tune-aways. In some cases the switch is about "an ongoing quest for a better song." As a side note, that language plays directly into Pandora's key marketing message of "the perfect next song." In a blog post yesterday, new Pandora CEO Tim Westergren said: "Almost every day brings a new learning or insight on how to pick better songs for every listener. It's a our labor of love."
Hacking the Commuter Code is being positioned by Edison Research as a third component of its ongoing consumer survey projects related to American listening. "This is an Edison Research Hacks The Commuter Code Page 2 of 2 entirely new research design to help answer definitively what has only been speculated about until now. We're confident that Hacking the Commuter Code will take its place alongside Edison's Share of Ear and Infinite Dial studies."
This survey canvassed employed American adults (18+) who commute by car to work with drives of 20 minutes of more. many audio sources were included — AM/FM, streaming internet audio, CDs, MP3s, podcasts, satellite. Over a hundred survey participants mounted a GoPro camera in their cars to record their commutes — no doubt capturing some sing-along. The study took place in autumn, 2015.