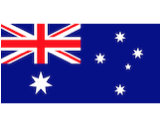 Australia saw growth of 4.94% in its recorded music market over the course of 2015, according to industry group ARIA. After two consecutive years sliding downward, the nation's market has rebounded to a value of A$333.5 million ($252 million).
Streaming was a major source of revenue for the Aussie music market. Subscription income doubled over the year to hit A$46 million ($35 million). Even ad-supported streaming, often a sore spot in these reports, increased 179.26% to A$25 million ($19 million). ARIA measured ad-supported streaming from services such as Spotify and YouTube on a wholesale basis.
Even though the digital formats did show improvements, the bulk of Australian listeners still put their dollars toward physical music sources and downloads. CDs, vinyl, and DVDs accounted for 38% of Australia's total wholesale music income last year, compared with 21% for streaming. Downloads secured 40% of the industry.