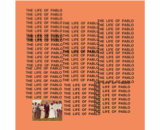 Kanye West's The Life of Pablo has been a source of great interest to the music media in recent weeks, thanks to the rapper's unique take on defining an album and his unusual approach to distribution. But the creation has also been very successful in attracting listeners. Pablo topped multiple album charts on the back of its strong streaming performance.
It currently holds the No. 1 spot on the Billboard 200 chart. Of the 94,000 equivalent album units Pablo had in the week ending April 7, only 28,000 were traditional sales. It is the first album to top the chart with a majority of its units generated by streaming sources.
Pablo also has the top spot on BuzzAngle Music's Album Project chart after last week, moving more than 82,000 album project units. As with the Billboard charting, nearly 70% of those units coming from streaming sources.
More and more charting organizations have been shifting their equations to account for streaming performance. The Billboard 200 started tracking streaming numbers in November 2014.