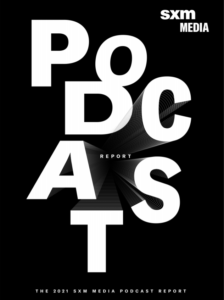 SXM Media, the newly formed sales network formed by SiriusXM merging its sales division with those in acquired companies Pandora and Stitcher, presented its new face at the IAB Podcast Upfront today. In a session hosted by Lizzie Widhelm (who joined Sirius with the Pandora acquisition) and Sarah van Mosel (who went over with Stitcher), SXM brought a research paper to the virtual event. (See RAIN coverage of SXM Media HERE.)
The SXM Media Podcast Report 2021 is in five sections, covering the industry landscape, metrics about listeners, content, listener behavior, and ad effectiveness.
Citing a variety of research sources, SXM documented that 116-million Americans listen to podcasts monthly, there are 2-million active podcasts (see Steve Goldstein's article about that HERE), though later in the report that number is reduced to 156,000 shows in "active release." There are 13,500 brands advertising in podcasts (according to Magellan AI).
"What's led to their success in this space?," the report asks. "These advertisers renew and increase their investment year over year—benefiting from a uniquely loyal podcast fanbase, new audiences entering the space, and a medium that keeps the typically hard-to-reach listeners engaged."
Pointedly, the report notes that 77% of listeners claim to pay attention to ads, and nine out of 10 take action after hearing an ad. (Those two data nibbles do not cite external research sources. Pandora and Stitcher conduct much of their own research in podcasting, and "SXM Media Metrics" is a source cited elsewhere in the document.)
This research evangelizes a "new listener" cohort which contradicts presuppositions about a typical listener profile.
"If you're automatically picturing a 30-something professional commuting to work in a big city, it's time to think again. The "new listener" to Stitcher podcasts is completely changing the storyline and breaking the "typical podcast listener" mold; they're evolving the profile to be younger and more diverse than ever before."
For example, if an advertiser imagines that podcast listening is concentrated in coastal tech-oriented states, SXM says that newer listeners (11 months or less) are more likely to live in Louisiana, New Mexico, and South Carolina, and more likely to be Gen Z. And multicultural. And less likely to listen to radio. Or watch TV. And several other attributes meant to shake up preconceptions.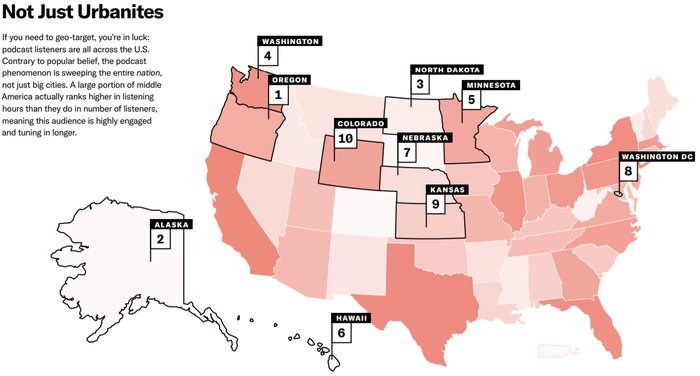 The study evaluates effectiveness of different podcast ad lengths. The 15-second ad is valued for implanting brand awareness and motivating brand recall. Longer ads tell deeper stories and "move the listener down the funnel toward action."
.