The recently renamed Cumulus Podcast Network engaged Signal Hill Insights for "Podcast Download" — a data report which covers listener behavior, genre engagement, acceptance of advertising, and more. The release is timed to coincide with the IAB Podcast Upfront, a four-day podcast festival for advertisers and agency buyers.
This is one of the most dense and graphic reports we've seen, and is available in exchange for a bit of info, HERE.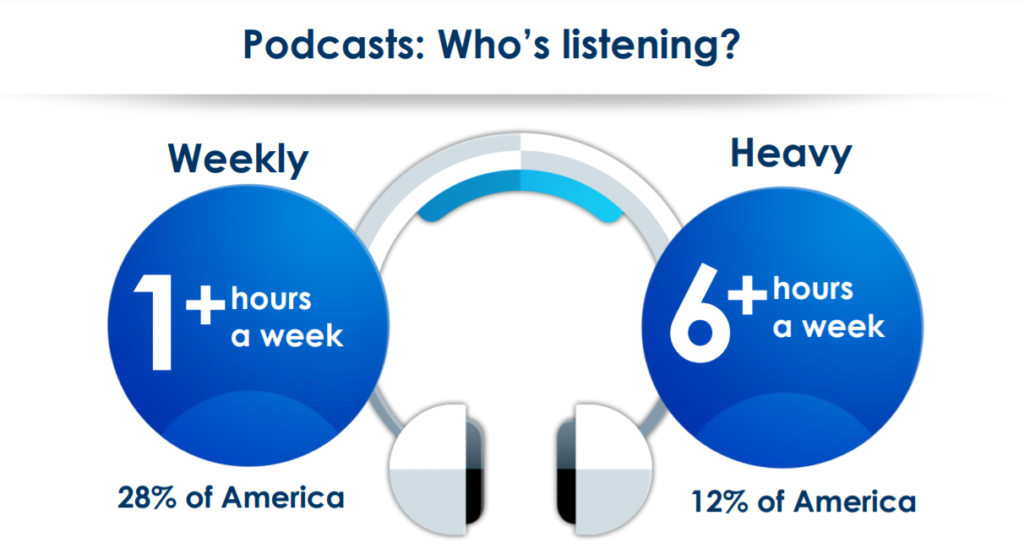 In an interesting profile of weekly podcast listeners, the study found that weekly users skew female, but heavier listeners skey male. There is also a demographic divergence between podcast pioneers and newcomers: The pioneers tend to be older, and newcomers tend to be younger, which certainly makes sense for a 16-year-old media category. Whether older or younger, weekly listeners tend to be heavy media users generally.
The study also found that 36% of weekly listeners are (or were) podcast pioneers.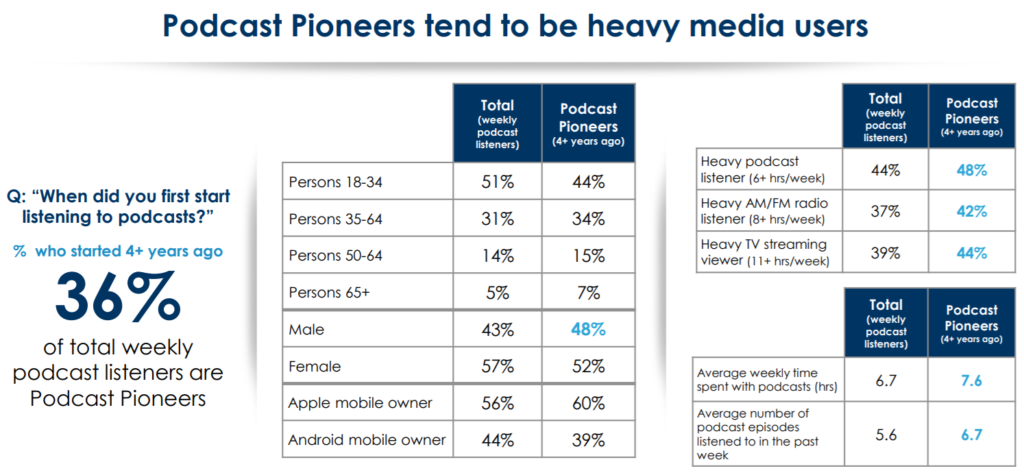 More on this exhaustive study in RAIN News in coming days. (Subscribe to the RAIN Daily Digest HERE.)
A full slate of key points, as expressed in an executive summary of the work, are these:
The pandemic was a podcast listening accelerant: Among weekly podcast listeners, the
COVID-19 pandemic was a catalyst for increased podcast listening. In March 2021, 53%
of weekly listeners reported spending more time with podcasts since the pandemic, up
+29% from July 2020 (41%).
Podcast habituation is on the rise: The amount of weekly podcast listeners who are
becoming heavy listeners (listen to 6 or more hours in the past week) continues to grow.
Women had the greatest growth rate between July 2017 and March 2021.
Genre exploration: Regular listenership is growing across most podcast genres,
suggesting that weekly podcast listeners are venturing out and listening to new genres.
Eager audience with about 1 in 2 tuning in on episode drop day: Weekly podcast
listeners are enthusiastic about their favorite podcasts. 46% reported listening to their
favorite podcast within a day of its release.
Pitching ad-free podcast subscriptions won't win over listeners: Content is the main
attraction for weekly podcast listeners. When choosing podcast subscription features,
weekly listeners will pick exclusive content over an ad-free experience.
Clubhouse is a natural brand extension for podcast shows and hosts: Awareness and
usage of Clubhouse overindexes among weekly podcast listeners versus the total U.S.
general population. When asked, majority of weekly listeners who are aware of Clubhouse agree that the app would be a good fit for their favorite podcast show or host.
Platforms have exploded while the big three dominate: Weekly podcast listeners are
accessing their podcasts on more platforms. Still, Apple, Spotify, and YouTube have a
strong hold on being the most used podcast platforms and continue to grow at the
expense of other competitors.
Unique need state fulfillment: Podcasts are unique, being one of the few mediums where
listeners come for entertainment and learning, cultivating an engaged audience.
Listeners feel podcasts are under-commercialized: Weekly podcast listeners are
comfortable hearing ads and the more time they spend with podcasts, the more ads they
will accept.
High CPMs warranted: Podcasts have the greatest ad attentiveness compared to other
media.
.