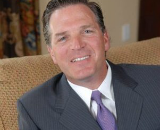 Mike Agovino, formerly COO of Triton Digital, has pivoted quickly into a new role as Executive Vice Chairman of PodcastOne. As we reported yesterday, Agovino left Triton in the wake of its acquisition by Vector Capital.
"The timing is finally right," said Agovino, who has known PodcastOne founder and CEO Norm Pattiz for years. "I have long-admired Norm's leadership style and success in all endeavors. Norm has spearheaded the reinvention of audio technology and entertainment, and I am excited to join forces with someone for whom I have so much respect, and with a company so well positioned to lead in the on-demand audio space."
Agovino was President of Katz Radio until 1999. He moved to Clear Channel where he was President and COO of Radio Sales. Mike Agovino co-founded Triton Digital, a technology company which provides audience ratings and technology platforms for the online audio industry.
Norm Pattiz appreciates Agovino's experience and scope: "Mike has been a pioneer in the audio industry and brings a unique global perspective of the digital audio business to PodcastOne. He shares our vision that on-demand premium content is a key driver in the future of audio."
PodcastOne has created news with a series of announcements over the past three months:
A partnership with Associated Press to create real-time injection of news bulletins
Dana Senit hired as regional sales manager
PodcastOne enters the Hispanic market with the signing of Eddie "Piolin" Sotelo to exclusive podcast