Mexican-born radio star Eddie "Piolin" Sotelo has a new distribution outlet, and PodcastOne enters a new market, as El Show de Piolin begins a new run on the podcast network. It is the first Spanish-language program on PodcastOne, joining a portfolio of 200 shows that are downloaded 120-million times a month.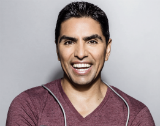 Piolin (the childhood nickname means Tweety Bird), a radio star who was once named to the 100 Most Powerful People in Southern California list in the L.A. Times, has moved through a number of outlets in recent years. After his Univision show ended at KCSA in Los Angeles in 2013, Piolin was installed in SiriusXM as the first Spanish-language DJ to move from traditional radio to satellite. His Sirius show ended in September of last year.
Piolin's radio career started in 1991, with a news-reading gig at Radio Mexico on Corona. He moved through several stations before attaining his first syndicated show, Piolin Por La Manana at KCSA.
PodcastOne has announced that it will retain exclusive ad-repping and distribution rights to El Show de Piolin. "It's very exciting to be entering the high-demand Hispanic marketplace with one of the most popular personalities in Spanish entertainment," said Norm Pattiz, PodcastOne Chairman and CEO. "Piolin leads the way in his field with a massive, loyal audience. Building off of PodcastOne's proven history of results, this opens an additional demographic reach for new and existing advertisers across our digital platform."
"I am incredibly excited to make El Show de Piolin available to listeners on demand through our new podcasts on PodcastOne," Piolin said. "It will strengthen my connection with listeners and give them another way to access the show whenever they want to listen."