Podcast advertising intelligence company Magellan AI, in collaboration with the Sounds Profitable newsletter authored by Bryan Barletta, have created an impressive graphic representation of the podcasting industry. (It's a free download; get it HERE.)
As seen below, the project graphically represents top companies on the buy and sell sides of podcasting, from content networks to ad agencies, and not a worldview of top podcasts.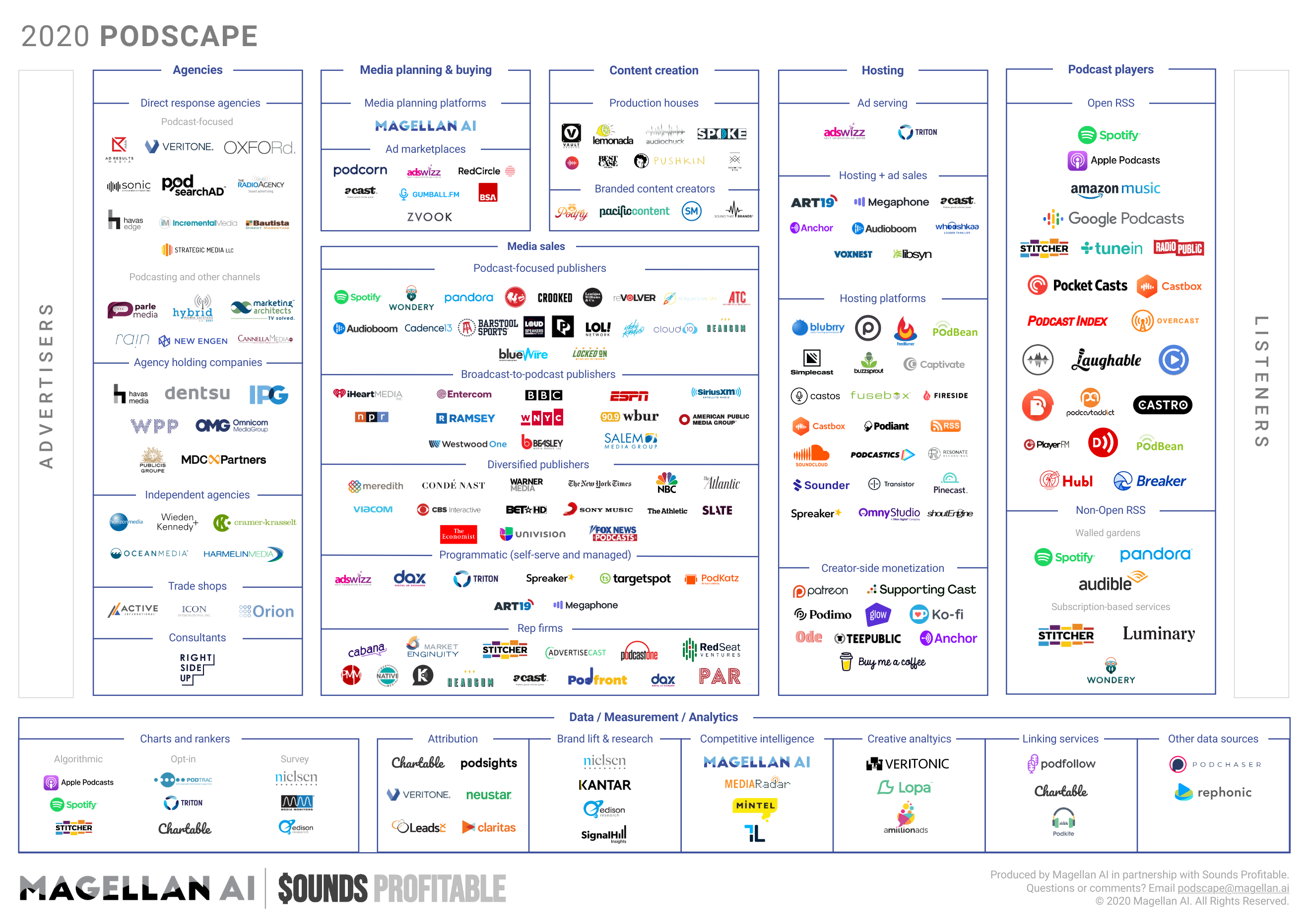 It is an impressive project and a useful guide. We appreciate difficult choices that must have gone into the inclusions and exclusions here. It is clearly a top top-level industry view, and by necessity eliminates second-level tiers of enterprise which are important to the holistic podcast industry.
One example is emergent and specialty podcast networks like Podglomerate, Lipstick & Vinyl, Pinna, and dozens of others. On the flip side, Cadence13 is in the "Podcast-focused publishers" group, while Entercom (which owns Cadence13) is placed in the "Broadcast-to-podcast publishers" section. And if Cadence13 gets a sort of double placement because of that, we might question why does not Pineapple Street Studios, which is also owned by Entercom. Along the same line, we note that neither Gimlet Media nor Parcast is broken out from Spotify.
We are glad to see public radio station WBUR in the "Broadcast-to-podcast publishers" section, but if BUR is going to be there, it seems like WBEZ, from which sprang Serial and Wait Wait Don't Tell Me, should be also. We also miss PRX/Radiotopia.
Multi-division companies will always pose a challenge for graphic industry landscapes. Stitcher must be pleased with its three appearances in Podscape, while we also note that Stitcher-owned sales powerhouse Midroll Media doesn't appear with other ad rep firms (though Stitcher is there), nor Stitcher-owned Earwolf with content networks, some of which are less productive and renowned.
Quibbles notwithstanding, and begging forgiveness for any mistakes we are making, the Podscape is a wonderful resource and an impressive accomplishment.
.