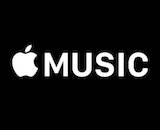 Apple Music now has a bot for playback of full songs in Facebook Messenger. This is the first time a streaming service has been set up to allow users access to a complete track within that platform. Only Apple Music subscribers will be able to use the full-song functionality. Non-subscribers will be able to send 30-second snippets to each other.
The Apple Music bot can also offer playlist suggestions based around emojis. This is a similar concept to the Sounds Like You marketing campaign Pandora ran on Twitter earlier in the spring. Perhaps not the most useful or finessed approach to recommendations, but it's certainly a cute idea.
Facebook's direct messaging feature, which was translated into a standalone mobile app, has been a subject of several musical deals. Spotify has offered multiple features on Messenger, including making collaborative playlists and AI recommendations.