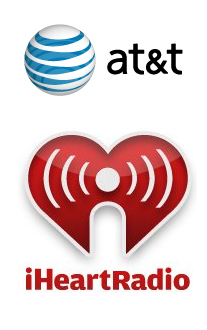 In a partnership with AT&T, iHeartRadio is now available on the telecom giant's U-verse enhanced TV platform. The integration is another building block toward making the television an in-home audio device alongside WiFi-connected speakers.
"Personalization is one of the key features of AT&T U-verse TV, so a highly customizable app like iHeartRadio is a natural fit." that's GW Shaw, VP of U-verse and Video Products at AT&T. Many of iHeartRadio's interactive features are implemented in U-verse, including searching for streaming stations, personalized recommendations, and saving stations. To some extent, the TV app in U-verse will offer the same functions as the web and mobile apps. Creating custom listener stations based on an artist or song will arrive in a future version this year.
The television is playing an increasing role in home streaming audio. Listening in the home is a distinct user behavior alongside in-car, smartphone, and computer playing of streaming audio. Recently in-home listening was recognized as a distinct market, when sales company AudioHQ and streaming outlet Slacker partnered to create an in-home ad network for marketers wanting to reach inside the home via audio ads.
A recent analysis by Co-founder and CEO of WiFi-speaker company Sonos, John MacFarlane, reveals that 92% of listening through Sonos speakers is streaming (as opposed to owned music stored in a home computer, which Sonos can also access). His point was that in-home listening represents an important aspect of the streaming revolution.
The television's role in this trend has largely been spearheaded by the Google Chromecast device, a TV hardware plug-in supported by many of the leading online music services. The iHeart/U-verse partnership bundles the service into a channel lineup already live in 6.1-million homes (as of Q3, 2014).