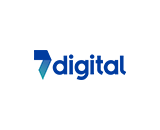 7digital announced its half-year business developments. The company's overall revenue rose 3% to about £5.2 million for the period. In the earnings discussion, the 7digital's leaders talked about their efforts to shift core business away from music download platforms in favor of streaming services and how that success was reflected in its positive financial performance.
"There is a lot of activity in this sector and major consumer product launches like that of Apple serve to create business to business demand for us," CEO Simon Cole said.
Since its quarterly update in April, 7digital has added new contracts worth at least £1.9 million. Those new clients include Mariposa and OpenLIVE. The company also hired a general manager for the U.S. market last month. 7digital added that it is confident of meeting its full-year financial projections based on this performance.