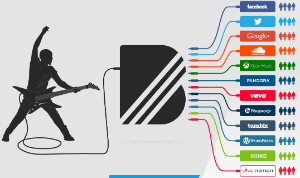 BandPage is adding another feather in its many-feathered cap in a distribution agreement with Clear Channel radio stations and CC-owned iHeartRadio. Both iHeart and the websites of Clear Channel's 840 radio stations will carry BandPage's musician tour dates and ticket-purchase links starting in the second quarter of this year.
BandPage is a one-stop musician service. It accommodates musician and band profiles, pictures, bios, music tracks, videos, and tour dates. When a band adds a tour date, or changes any part of its profile, the update ripples out to all sites which carry BandPage information.
BandPage has worked out distribution deals with many points of user contact, including Facebook, Twitter, SoundCloud, Xbox Music, and Rhapsody. Adding iHeartRadio and Clear Channel stations websites to the distribution portfolio provides significant added value to BandPage's 500,000 participating artists. According to two recent studies (NPD and Edison), iHeartRadio is the second most-used online music service, after Pandora.
High-profile musicians who use Pandora include Beyonce, Bruce Sprintsteen, Rihanna, Kelly Clarkson, Pink, and Usher, according to BandPage's marketing material.