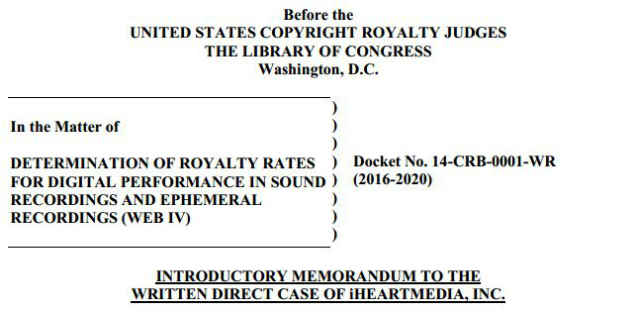 iHeartMedia has proposed reducing the royalty rate webcasters pay to artists and labels, cutting the existing rate set for terrestrial webcasters by 80 percent. The suggested royalty amount is less than half of Pandora's suggested rate, which in turn is about half the rate suggested by SoundExchange, which represents music labels.
All of this positioning is taking place via written argument briefs submitted to the U.S. Copyright Royalty Board (CRB), the rate-setting arbitration panel for American streaming services. At stake is the cost of music to U.S. webcasters for the 2016-2020 royalty period.
Willing buyer, willing seller
Free-market deal-making is a theme of the webcaster proposals leading up to the next royalty period. In what is still a fairly new field mostly governed by blanket licensing of music, streaming audio has not had many examples of such deal-making upon which to base statutory rates. Both Pandora (largest pureplay streamer) and iHeartMedia (both pureplay and terrestrial webcaster) have created such deals, and cite their real-world negotiations as benchmarks for re-evaluating the cost of music.
"We propose a searching reexamination of the statutory rates … that reflect what willing buyers and sellers would set in an actual, functioning market." –iHeartMedia, Written Direct Case to the Copyright Royalty Board
In Pandora's case, its argument brief to the CRB, was based on its agreement with Merlin Network, a vast global alliance of record labels. (RAIN analysis here.) Pandora revealed that it "steers" user playlists toward Merlin music, and pays lower royalty rates for the extra exposure it gives to Merlin. The actual royalty amounts, and degree of steering, were blacked out of the public document.
Steering by Any Name
iHeartMedia uses the same general tactic in its CRB statement, citing its negotiated deal with Warner Music Group. In that example, iHeart reveals a similar deal point as in the Pandora/Merlin example. iHeart doesn't use the word "steering," but an exchange of prioritized streams for lower rates appears the same:
"The result of that recent negotiation established, in economic substance, two rates: a rate of $0.0023 to $0.0025 – that is, the statutory rate — for the spins of Warner music that iHeartMedia would have performed in the absence of any agreement with Warner; and a rate of $0.0005 for the additional spins iHeartMedia agreed to give Warner as a result of their agreement."
From this deal logic, iHeartMedia proposes a flat licensing rate of $0.0005 for the entire 2016-2020 royalty period, for all applicable webcasting.
"It is plain that the current rates are too high," states iHeartMedia, criticizing "…high per-play rates that have afflicted webcasters and inhibited the growth of the webcasting industry." iHeart calls current rates "indefensible and obviously wrong. […] What we seek is a reset: the current rates, set by prior panels, were based not merely on limited or non-existent economic evidence, but on bad economic evidence."
The Value of Spins
iHeartMedia argues that the current webcast rates seek to compensate the whole music industry (recordings and concerts) as if webcasting eliminated all other music-derived revenues. iHeart offers expert witness testimony that streaming music spins promote sales, rather than removing them.
"The current rate is higher than the rate that would maintain full compensation for copyright owners if webcasting eliminated all their other revenues. That is, current rates pay those owners as if internet radio were a complete substitute for purchasing music, attending concerts, and all other sources of revenue for the labels."
The argument logic is unsurprising for the country's largest terrestrial radio group. iHeart might be aiming at two birds with one stone: Lowering webcast licensing rates and conceptually protecting terrestrial radio's historic exemption from those rates entirely. At the same time, the logic could be perceived as risky, since recent RIAA revenue reports indicate streaming revenue rising while music sales skid quickly downward, implying a cannibalization effect that iHeart denies in its statement.
iHeartMedia furnishes testimony from internal and external sources to support a case that streaming spins encourages music buying, rather than displacing it. In summarizing that testimony, iHeart ties together streaming and terrestrial, while criticizing music rights-holders:
"As the testimony of iHeartMedia's Tom Poleman and Bob Pittman proves, exposure through "spins" is the critical element that drives music sales, and artists and record labels exert enormous energy to place their works before the public on iHeartMedia's stations for that reason. Copyright holders want to have their cake and eat it too: the indisputable promotional benefits of spins and the highest possible payment rate they can gain."
What About Payola?
Payola, which was a scandal in terrestrial radio, inevitably poses a question mark when discussing any scheme which exchanges financial favorability for music exposure. iHeartMedia does not avoid the P word — while obviously not sanctioning illicit behavior, iHeart does endorse marketplace mechanics in which content owners compete with each other to expose their music:
"Since the days of illegal 'payola,' copyright holders have competed with each other for the obvious benefits of broad exposure through broadcasting. In a functioning market – without a monopolist SoundExchange, and without a mandatory, artificially high rate the copyright holder can insist upon – buyers and sellers would in fact agree upon a per-performance rate of $0.0005, and indeed they have agreed upon that rate when recent contracts are properly analyzed."