We announce the results of RAIN Polls after one week. But we don't shut down the polls after publishing the results. In some cases they remain active through search engines and social pointers. When that happens we revisit and update the results. 
---
We published our Listening in the Car survey and results in March. Since then responses have continued, demonstrating a persistent interest in the question: What do you listen to in the car?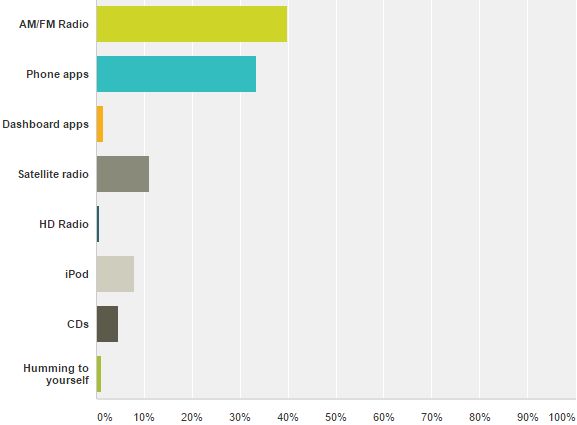 The initial results indicated that AM/FM was the favored listening choice,  but not a dominant one — 37% of readers put traditional radio in first place. As of now, that number has grown slightly to 39%. Listening to audio via phone apps remains the second choice (33%), and satellite radio is third (11%).
AM/FM Comments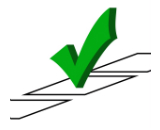 As always, comments provide context around the single-choice poll. Among AM/FM listeners, these selected remarks shed light:
"It is cumbersome to connect my phone for short trips (for podcast/stream listening) – even with a bluetooth add-on, and I don't change the discs in my car often. I don't have satellite radio."
"I would listen to Internet Radio more in the car if & when an application becomes easier to hook up & use.  Internet Radio 'in dash' needs to become as universal as AM/FM & Satellite has become!"
"Old fashioned, I guess. When I'm trapped in the car, I like to know what's going on in the outside world. And almost everywhere I go, I can jump from one NPR station to another with few gaps."
"Used to be Sirius XM, but their plans have become some costly that they are no longer worth paying for.  I'm not at all interested in Howard Stern and refuse to help pay his salary."
"Relevant current music variety and info."
Phone Apps
Some of those who chose phone apps for primary listening had this to say:
"I'm yearning for the day when I'll be able to simply start the car, and hear my favorite Internet stations come right through like Dinosaur Radio.  Until that day, I'll keep hooking my phone up to the little FM transmitter– and then, start the car.
"Where it works.  I'm not in a city."
"I can plug in my iPhone and listen to Slacker while charging the phone at the same time. Both my phone and I arrive at work fully charged."
"I still listen to the AM/FM radio occasionally, but 95% of my car listening is Slacker/Pandora/Spotify."
"Phone apps because I want my music library availability through streaming media."
"Tune-In Directory or direct link to internet radio stations."
Satellite Radio
And these selected comments from advocates for satellite radio:
"Principally, I seek out compelling spoken word programming (not phone-in news/talk) via BBC, CBC Radio 1, NPR.  Music needs to be diverse and challenging."
"I'm so disenfranchised with the way terrestrial radio operates these days, it makes me sick to hear it."
"My first choice WOULD be able to access Internet streaming on demand…type in any streaming Internet address and access it."