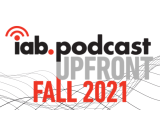 The second and final day of the IAB Fall Podcast Upfront featured video presentations, podcast hosts, metrics, conversations about technology, and a clear winner of RAIN's informal "win the funny" prize. (Not really a prize. Just recognition and appreciative laughter.)
As in day 1 (RAIN coverage HERE), the day was MC'd by Nora Ali. Her sidekick for today was Daryn Carp, co-host of Shaken and Disturbed. They provided steady and affable guidance through the day. Presentations were pre-recorded.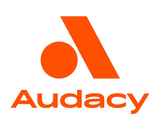 The first presentation was from Audacy, second largest commercial radio group in the U.S., with a large footprint in podcasting thanks in part to its Cadence13 and Pineapple Street Studios acquired subsidiaries. The Audacy installment spotlighted those network brands front and center. Lizzy Denihan, Head of Partnership Strategy for those two groups, delivered the pitch. She reeled off a series of metrics: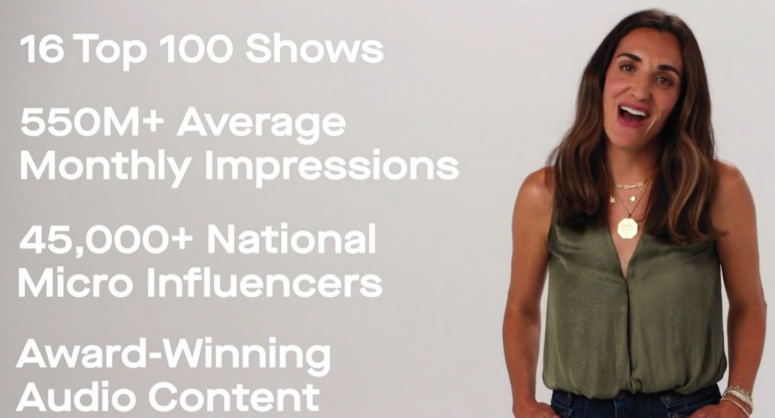 Audacy positioned itself as a comprehensive suite of platforms, content, tools, and expertise to guide advertisers through the entire buy process at any level of involvement. Denihan emphasized that listeners are deeply engaged (no such thing as a Podcast Upfront pitch that doesn't emphasize that point), and she called out GenZ listeners in particular. She also said sports podcast listeners are "voracious." In the Podcast Upfront chat, one buyer called these listener capsule profiles "extremely important for brands considering new podcasts."
Ken Lagana (EVP, Digital Sales) and  Thomas De Napoli (Chief Strategy Officer, APME Studios) also participated in the session. Lagana echoed the engagement point, and evangelized Audacy's ad products as "the next level of podcast advertising." He mentioned branded podcasts, and cited US Bank buying a full-episode takeover.
Acast flooded the zone with seven presenters, most of whom are podcast hosts.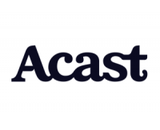 Acast flooded the zone with seven presenters, most of whom are podcast hosts. The presentation spent time celebrating and describing its partnership with The Young Turks (TYT), which involves distribution and content creation. This part of the Acast program traveled down the show profiles path, with a lengthy video segment hosted by Jake Anthony and Matt Marr (Reality Gays), who lightheartedly introduced Small Town Dicks, a police/detective show hosted by Yeardley Smith (voice of Lisa Simpson). Next up was Indisputable, hosted by Dr. Rashad Richey. Several more followed, including Alan Sepinwall (Too Long; Didn't Watch).
Acast also made certain the audience knew about its acquisition of RadioPublic, its partnership with Crooked Media, the U.S. launch of Acast Creative, and the company IPO on NASDAQ. The company characterized its listeners as "An engaged, informed, inspired audience."
NOTE: Jake Anthony and Matt Marr get special mention for their slightly risque humor that kept the atmosphere light and jovial. Honorable mention for Upfront humor honors (see Chartable below).



"We won't be singing a sea shanty today." That alert was delivered by podsights presenters Brigid Judge (Director of Partnerships) and Megan Johnson (also Director of Partnerships), cruelly disappointing many Upfront attendees. In the Spring Upfront, we gave the company RAIN's "win the funny" award for its admirably challenging and delightfully silly sea shanty escapade. (See it here, along with co-winner Kast Media, which did not present in the fall event.) We weren't the only ones holding that fond memory, and the Upfront chat window rang with cries of "Bring back the shanty!" Alas, not to be.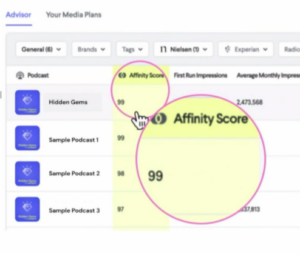 Down to business, podsights promoted a new product: Podsights Advisor, which provides predictive recommendations to brands about which podcasts to advertise on. The premise is that podcast rankers are not effective measures on which to make ad purchase decisions. Podsights uses the new tool to derive a Brand Affinity Score, and the idea of establishing affinity was emphasized over and over. Nielsen and Experian are involved in the tools' intelligence. The formal launch is planned for October.
Just as attendees thought podsights had dropped the funny ball entirely, and "shanty!" calls ramped up in chat, we got a blooper reel of today's presentation. It was charming. Not enough for an award (see Chartable/Charitable below), but certainly honorable mention.

Osiris, new to the Podcast Upfronts, was represented by CEO RJ Bee. He described his network as "The leading music storyteller." Naturally, much of the presentation evangelized unique audience attributes connected to music podcasts. Bee whipped through a very informative, rapid-fire deep dive into the network's portfolio. We got snippets of hosts talking about their shows. There was emphasis on Sugar Maple, the company's first fiction podcast, described as the story of a mysterious guitar that travels through time.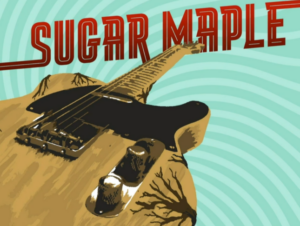 There is a connection with Audacy, and Tim Murphy, Audacy's EVP of Corporate Business Development said he was "thrilled" to be working with Osiris. As he described a grunge rock documentary called Breaking Waves Seattle, we could see how a music podcast company could integrate beautifully with a radio group that is also hip-deep in the podcast realm.
Osiris cleverly arranged for a micro interview transpiring in the IAB chat window, alongside the video presentation. In it, we learned of several brand partners (Harry's, Manscaped, MasterClass, Upstart.)

LWC Studios entered the field in 2017, with a mission to be an entry point for what it calls "rising audiences." Juleyka Lantigua (Founder and CEO) handled the presentation. In this format, LWC benefits from one of the clearest and most self-evident audience profile pitches in the Podcast Upfronts. Unlike networks with broader spectrums, LWC can pitch directly to brands that want to reach Latino and Hispanic audiences. Within that broad profile, Lantigua noted that 36% of Latinos (16M) have listened to podcasts, according to the Edison Research Latino Podcast Listener Report, which LWC sponsors. The audience includes GenZ women, college educated listeners, early adopters, multilingual and "culturally fluid" listeners.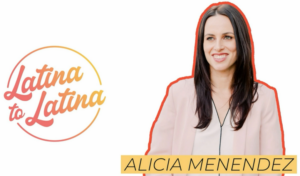 The Latina to Latina podcast received special attention, and we learned that it served one-million downloads in March.
The network has raised over $40,000 for the Podcasting Seriously Awards Fund. The money pays for entry fees at podcast contests, distributed to indie, trans, and disabled producers.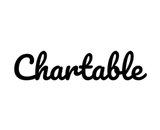 Chartable CEO Dave Zohrob and President/Co-founder Harish Agarwal sat in a staged setting for the Chartable session. Each chair was positioned by a large fern. Zach Galifianakis fans might have guessed what was coming. Call it "Between Two Mics." It was, by far, the funniest presentation of the Fall Upfront, and receives RAIN's informal "win the funny" award.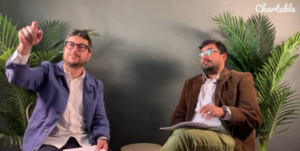 Agarwal played Zach's part, confidently asking clueless questions and insistently calling the company "Charitable." The buffoonery was relentless and hilarious. Through it all, Zohrob managed to deliver some metrics. Chartable's podcast attribution service is used by a high percentage of top networks, including iHeartRadio, Vox Media, Team Coco, Wondery, Candence13, APM, NPR, and others. The company measures over two-billion impressions a month served by 21,626 podcasts.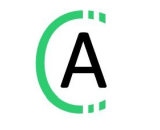 Podcast host Advertisecast, acquired by Libsyn in March, was represented by Dave Hanley (CRO, AdvertiseCast) and Erica Mandy (Host, The NewsWorthy Podcast), who presided over a series of host interviews. Rob Greenlee (VP, Content & Partnerships, Libsyn), Damona Hoffman (Host, Dates & Mates), and Jack Rhysider (Host, Darknet Diaries) also took part.
Rob Greenlee conducted a brief interview with Danny Pena, Founder/Host of GamertagRadio. Greenlee asked what a buy should look for in the GamertagRadio audience. Pena emphasized the breadth of audience that is possible even in a sharply defined podcast topic. "We have a videogame show, and none of our advertisers are game companies. I love when a company wants to promote 1-800-flowers. It has nothing to do with the show, but our listeners have girlfriends, or are married, or have mothers."

The day's final presentation featured a conversation with Hayley Romer (Publisher and Chief Revenue Officer, The Atlantic) and Brooke Bollyky (Managing Director & Partner, Boston Consulting Group). The two companies are in a podcast production partnership which has created American Metamorphosis, a documentary about American presidential change. "A climate crisis. A pandemic. An economy in free fall. The task of addressing our most pressing national issues requires swifttransformations at the highest levels of government. And that starts with an effective presidential transition." This   premise creates a show about leadership and the challenges of institutional change. It was produced by Atlantic Re:Think, the media company's branded podcast unit.

"We do not do traditional advertising — billboards, airplane magazines — none of that," Bollyky said. "We do engage in social and digital. Podcasting felt like a right fit with our brand. It felt genuine."
The project was successful by Bollyky's criteria: 230,000 downloads, and in an audience poll 82% of decision makers said they would consider Boston Consulting Group for their needs.
.