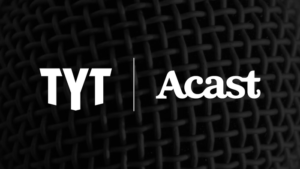 TYT, the online progressive news network, has established a partnership  with Acast to expand TYT's podcast catalog. There is a quadruple point to the arrangement: Bolster TYT's existing podcast production capability, expand distribution to new audiences, create new shows, and monetize the whole effort.
In the area of new content development, TYT also seeks to expand beyond its traditional political niche into what the company calls "a variety of cultural topics." Currently, TYT is best known for news/politics shows The Young Turks, The Damage Report with John Iadarola, The Conversation, and Old School.
Praveen Singh, Chief Marketing Officer at TYT, evangelizes the opportunity to expand into podcasting: "TYT is known for its authentic voice, and podcasting is a great fit for our content because the platform provides an intimate and real audio experience."
Acast — which works with publishers such as PBS NewsHour, A+E Networks, Discovery, Daily Beast, BBC, and The Intercept — will host and distribute all of TYT's podcast programming widely, making it available to audiences across all podcast apps and players. Acast will also manage monetization of the shows through ads and sponsorships.
"The appetite for accessible digital news that's trustworthy, equitable, and inclusive has never been stronger," said Rebecca Steinberg, Director of Development at Acast.
.