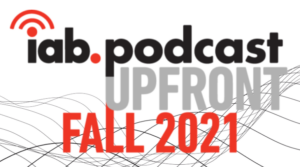 The first day of the two-day fall IAB Podcast Upfront occurred today, in a packed four-hour series of 10 presentations. The event, formerly annual and now a twice-a-year, spring-fall occurrence, showcases podcast networks to audio advertising buyers. The invitation-only format seeks to put buyers and sellers into a room for an intense celebration of podcasting as a marketing medium. The "room" has been virtual for the past three instances.
Host for the day was Nora Ali, media personality and musician, sidekicked by comedian and beauty expert Jackie Johnson, creator of the Natch Beaut podcast.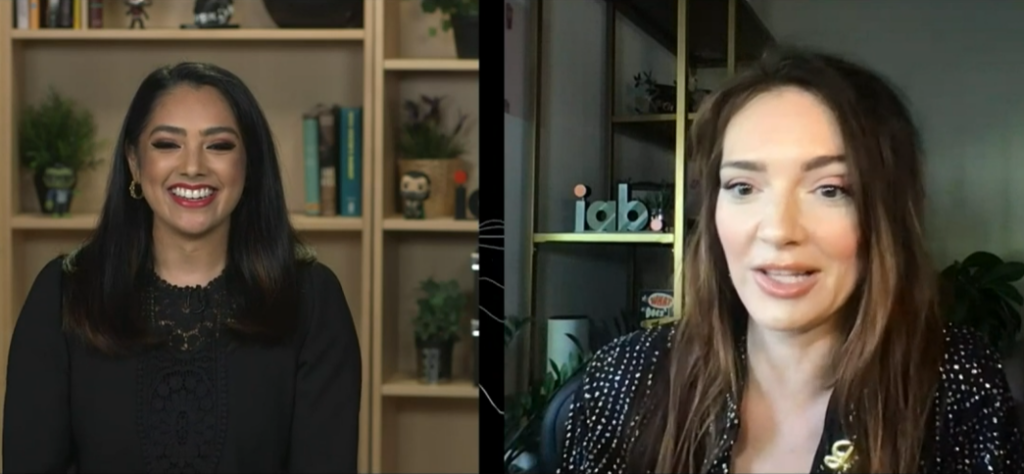 Nearly all of the presentations today were pre-recorded, and illustrated a range of video production styles which (ideally) matched the tone of each presentation and its pitch to advertisers. In some cases, elaborate descriptions of existing and new podcasts seemed to target a certain mood or programming ethic that could match what buyers are seeking in a marketing environment.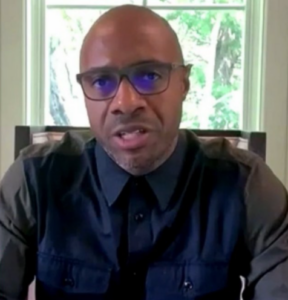 NPR started the day off in that fashion, emphasizing the public group's long history and leadership success in creating audio programs both from scratch, and from their original radio forms. A key announcement was a new podcast coming up from Jay Williams, former NBA star who suffered a catastrophic road accident which ended his athletic career and began his media career. Williams spoke at length about his biography. Oddly, the title of the news podcast was not included in the presentation, or in the simultaneous press release we received while he was speaking.
Boston Public Radio station and long-time podcast producer WBUR presented in that way also, emphasizing hosts. The mood was one of serious intent and high journalistic principles. A new show, Charles Stuart Podcast, profiling the 1989 murder case, will appear in 2022.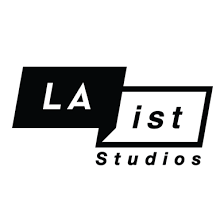 LAist Studios took the same basic strategy, presenting a few deep interviews with its podcast hosts. The idea here seemed to be focusing on the personality of the show, and sparking a buyer's desire to affiliate with it. In our mind, the buy-side caution around brand safety in podcasting is addressed in showcases like this by presenting serious non-fiction podcasts with a clear focus like LAist's The Big One, a survival guide anticipating a big California earthquake. The overall takeaway is a network which offers predictable topics and moods without the brand-scary surprises that can come up in a wide-ranging interview show featuring dozens of personalities.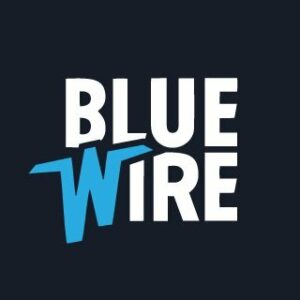 The Blue Wire network — a legacy sports podcast network that has expanded to comedy and culture — took a different path, bragging about a big range of content and personalities, including a focus on Tik Tok entertainers. This company spoke directly to advertisers, with details about various inventory and content packages. It was a cut-to-the-chase video about what's on sale and who should buy it. There was a call-out to Megaphone for providing audience targeting, which put the focus on ad tech that media buyers are accustomed to in other categories. A quote from CEO Kevin Jones crystallized the company's brash confidence with a get-in-while-you-can attitude: "We're about to take on Barstool, The Ringer, and other giants."

The REALM network presentation dove deep into the values of fiction podcasts, as evangelized by CEO and Co-founder Molly Barton. "Fiction helps readers and listeners build empathy," she said. "Fiction is core to every entertainment company. But only five percent of podcasts are fiction." She noted listening trends that are important to advertisers: Loyalty to the show (seldom missing episodes), and persistence within episodes (rarely skipping through or ending early). The message seemed to be: Sponsor our shows and your messages will be heard. To hammer home the point, she played an audio sizzle reel of listeners expressing their love of fiction generally, and REALM fiction particularly.

WarnerMedia covered two of its subsidiaries in its Upfront segment: CNN and Rooster Teeth, media brands whose origins and brand sensibilities could hardly be more different. CNN promoted three new podcasts: Total Recall (a documentary about the 2003 California governor recall election), Margins of Error (what statistics tell us), and When Diana Met… (a documentary of Princess Diana). Jason Baron (SVP, Direct Marketing and Podcast Sales,) called WarnerMedia "a Modern media company with a 360-degree approach." He emphasized customized partnerships.
Rooster Teeth put up a lightning-quick sizzle reel, per its legacy style. Two new shows that got briefly promoted: Big Mood "an all-girl comedy podcast," and Slice and Dice (cooking mixed with Fantasy and SciFi).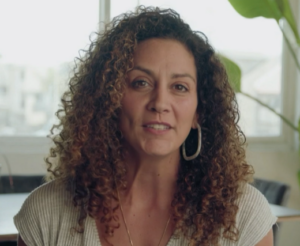 ADONDE Media was represented by Founder and CEO Martina Castro, who starred in an immaculately produced video which walked viewers through ADONDE's history as a multilingual podcast producer. The company's star partner is DuoLingo, with which ADONDE made its first product in 2017, and which reached #1 in an Apple podcast chart. A partnership with TED is an important part of the current business, Castro said, and noted an overall tally of 80-million podcast downloads. "We have a reputation for creating entertaining, multi-lingual podcasts," she said, clarifying the proposition to all buyers in attendance. In perhaps the most explicit pitch of the day, Castro listed podcasts which are currently looking for sponsors. One is Lost In Translation, which highlights language quirks such as the Italian word for a third cup of coffee. (Tre nervosismi?)
The day included a couple of panel discussions, and one interview.
Day two of the IAB Fall Podcast Upfront happens Friday, September 10.
.