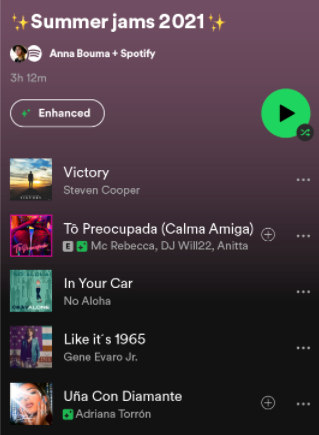 Spotify wants to broaden the listening repertoire of its Premium subscribers who build playlists. In today's news, the company introduces Enhance, a song suggestion feature added to "Add song" and "Recommended," tools which are already bolted onto playlists.
Enhance is optional, and the option must be tapped by the user before it takes action. The action is this: Spotify's music AI will insert a new song after every two existing tracks in the playlist. (In long playlists, Spotify stops adding recommendations after 30 of them.)
The addition is not permanent until the user touches a "+" icon next to it. Then the recommendation becomes a solid part of the playlist. It does not replace any other song; it just gets wedged into the list.
"Enhance" is hardly the first effort to broaden the horizons of Premium playlist addicts. Scrolling to the bottom of most playlists (they have to be sufficiently lengthy) finds Recommended Songs, a micro-list of five tracks for consideration. Tapping a "+" icon adds a song. Touching a "Refresh" button replaces the original five recommendations with five new ones. We have enjoyably used Recommended Songs to discover artists and freshen up playlists.
That's not all. Above a Premium user's playlist is the "Add songs" feature, which flips the user to a long list of recommendations based on the original playlist. It contains dozens of 10-second track samples representing songs which can be added with the trusty "+" icon. We like this, too.
"With Enhance, we're helping our listeners do more of what they love: curate their playlists with great recommendations. Enhance will continue to evolve as we learn more, so stay tuned for those updates down the road." –Spotify
Enhance is rolling out gradually to 40 global markets, with more to come. It's a phone feature; Android and iOS. We hope to see it appear in the desktop app (which, by the way, is excellent, and power-used by hardcore lean-in subscribers.)
.