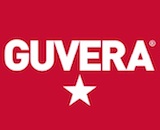 Guvera has entered a partnership that will see it highlighted on the Asia's Next Top Model television show. The streaming platform will be tasked with curating music for the program's runway shows. Guvera has also launched a brand channel for the show in its app, which collects both music and video from the reality program.
The tie-up has an additional layer, with Shazam also a partner in the multimedia marketing push. Guvera is running a TV commercial on the show that viewers can Shazam on their phones to go directly to the Top Model brand channel.
Guvera has explored other marketing tie-ins in the past; at the start of the year, it announced a sponsorship for the Australian Open tennis event.