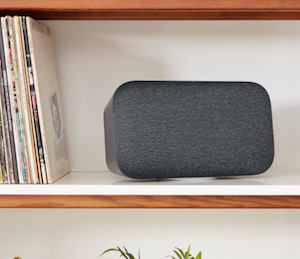 Google's latest addition to the smart home speaker space has officially launched. The Google Home Max is now on store shelves both physical and digital.
The distinguishing features for the Google Home Max are its larger size and its Smart Sound technology, which allows the speaker to automatically adapt how it plays music to best fit the room and its position in it. The device has voice control through the Google Assistant platform, and voice commands can be used to play music from Spotify, YouTube Music, Google Play Music, and Pandora. It also has Chromecast built into the speaker, so people can use the Google Home Max to play content from their smartphones and other devices. It also has ports that allow the speaker to play music from other sources, such as an MP3 player or a vinyl turntable.
Google unveiled this smart speaker in October at the same time as the Google Home Mini. The launch draws Google's smart speaker offerings closer in line to market-leader Amazon, although the Echo line is still leading in adoption.