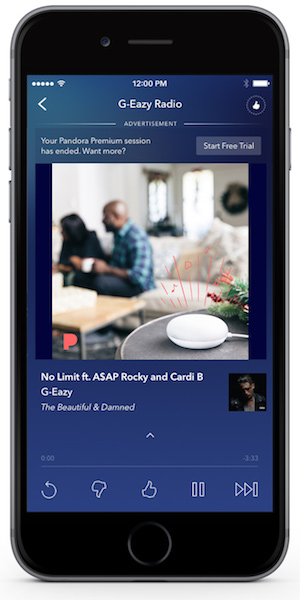 Streaming services have explored many options to tease premium features to their free listeners. Pandora is newly offering its ad-supported listeners and its mid-tier Pandora Plus listeners a chance to try out a Pandora Premium session in exchange for viewing a video ad.
The ad is a 15-second clip which, after it ends, will unlock on-demand music listening via Pandora Premium and ad-free lean-back listening. The Premium session will also open up the subscriber-only mobile options for uninterrupted background listening. The exact length of the Premium session unlocked by an ad viewing is still in flux. A Pandora representative told RAIN News that the optimal length will be determined through testing "in the realm of 15 minutes, 30 minutes, or an hour."
"Our ad-supported listeners' top request has consistently been the ability to directly play the specific songs, albums, or playlists they want," said Roger Lynch, President & CEO, Pandora. "These new features address that need by marrying rewards-based advertising with the best-in-class on-demand experience we've created with Pandora Premium. This unrivaled experience will drive listeners to Pandora and drive awareness for Premium, while also creating new opportunities for artists, labels, publishers and advertisers."
On the brand side, this means a new ad unit. Pandora laid out its case for advertisers to take advantage of this focused 15-second spot in a blog post on its Pandora for Brands site.