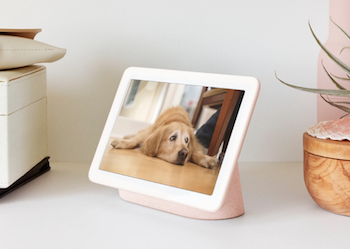 Google is continuing to release new smart speaker designs to keep pace with its top rival, Amazon. The tech giant's latest device confirms rumors from last month with the unveiling of the Google Home Hub, a speaker with a display screen, a low price point, and an emphasis on privacy.
The Home Hub combines the cloth-covered style of smart speaker favored by Google with a 7-inch display screen. The screen can show photos, timers, weather, maps, calendar events, and other visual information requested of the Google Assistant voice AI. Google said it has updated several of its software services, including YouTube, to accommodate this device. And, as you'd expect from a gadget named Hub, it has a Home View feature for controlling all smart tech from a single dashboard.
Based on form factor, the Home Hub is a natural competitor to Amazon's Echo Show. However, it doesn't have a camera. Google representatives said that was to encourage using the device in private spaces like bedrooms, although it means there is no option to video chat using the Home Hub. Google also promoted its AI's ability to distinguish between different users' voices and deliver personalized experiences.
The device will support music streaming from services including YouTube Music, Spotify, Pandora, iHeartRadio, Deezer, and TuneIn at launch. Although third-party services are supported, Google is showing a bit of internal favoritism by offering six months of free access to its YouTube Premium service for customers purchasing the product. The YouTube integrations are of particular note, considering the nasty back-and-forth Google and Amazon have had over the video platform on the Echo Show.
The Google Home Hub will be available on October 22 in the U.S., the UK, and Australia. It retails for $149, less than third-party products using the same Smart Display tech from Google. Considering how its low-cost Google Home Mini has helped propel the company into closer competition with industry leader Amazon, further increasing accessibility to smart home tech could continue to aid Google in this segment.