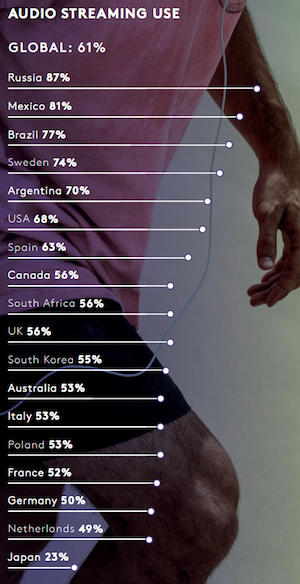 The IFPI has released its annual music consumer insight report, offering a snapshot at how people listen around the world. The latest analysis confirms several ongoing trends in the music space, including the dominance of streaming, the reliance on mobile devices, and the threats posed by piracy.
The group revealed the extent that music is a daily habit, finding that consumers spend an average of 17.8 hours a week, or 2.5 hours a day, on the activity. On-demand streaming boasted huge popularity on the global scene, with 86% of consumers using those audio and video services. For audio streaming, the global rate of use was 61%.
Within the overall time spent in on-demand streaming, video was responsible for 52% and YouTube alone took a 47% share. Paid audio streaming had 28% of the total and free audio streaming had 20%. The IFPI reported that 35% of its participants said they didn't pay for audio streaming because they could find anything they wanted to hear on YouTube.
Smartphones play a key role in the global music landscape. Mobile devices are responsible for 27% of total music listening time. Three-quarters of consumers listening to music on smartphones. Mexico, Brazil, and Argentina had the highest rates of using smartphones for music.
Newer technologies are especially popular among the younger generations. Half of the respondents aged 16-24 said that if they could only pick one way to listen to music, they'd choose audio streaming, while 58% of the age bracket would pick their phone if they could only listen on one device. Across that demographic group, 94% use smartphones for music.
The IFPI also examined smart speakers, the latest hardware to have a noteworthy impact on the music industry. Worldwide, 15% of consumers are likely to purchase a smart speaker in the next 12 months. The report observed some trends among smart speaker users, most of them pointing to heavy interest and investment in music. Users of the devices are twice as likely as the general consumer to pay for audio streaming, and are more likely to own a turntable and to attend live music performances.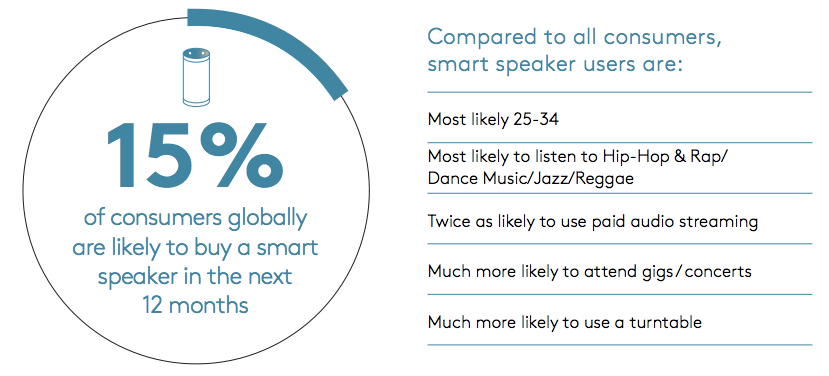 The report did give a nod to the resilience of radio. Eighty-six percent of global consumers listened to broadcast radio, led by Poland and South Africa with 94% listenership. Radio was responsible for a quarter of all music listening time, and the report found that radio nets 4.4 hours of global weekly listening.
The organization often shines a spotlight on illegal music activities, and that continues with the 2018 report. Globally, 38% of respondents stated that they obtain music through copyright infringement. Stream-ripping was the top form of illegal access with 32%, followed by cyberlockers or P2P sharing at 23%. Seventeen percent said they found infringing content through their search engines.
The report is based on global surveys in 20 territories conducted between April and May of 2018. Samples of between 1,000 and 2,000 respondents were collected for each country. Argentina, Australia, Brazil, Canada, France, Germany, Italy, Japan, Mexico, Netherlands, Poland, Russia, South Africa, South Korea, Spain, Sweden, the United Kingdom, and the United States were surveyed. China and India also participated, but their results were not included in the report's global results since they received special breakout focus in the report.