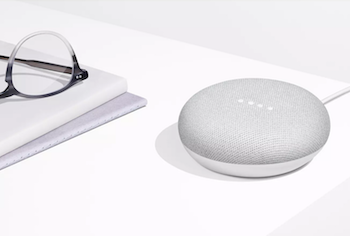 Amazon may have held the lead as smart speakers entered the marketplace, but Google is hot on its trail. According to Strategy Analytics, the Google Home Mini was the top-selling smart speaker in the world during the second quarter. The small model from Google sold 2.3 million units and took a 20% market share during the period, edging out the comparable Amazon Echo Dot model, which sold 2.2 million units for an 18% share. The report found that total sales for the quarter reached 11.7 million.
"Unsurprisingly, Amazon and Google models dominated the best-selling list of smart speakers in Q2 2018," said David Watkins, director of the smart speaker service at Strategy Analytics. "The Google Home Mini and Amazon Echo Dot accounted for a combined 38% of global shipments although they contributed just 17% towards the value of the market due to their low price."
The figure is a banner one for Google, especially since Amazon was still decisively in the forefront as recently as Strategy Analytics' Q1 report. But the market research company and other outlets have been reporting signs that Google is the most likely to challenge Amazon's lead on a global scale.