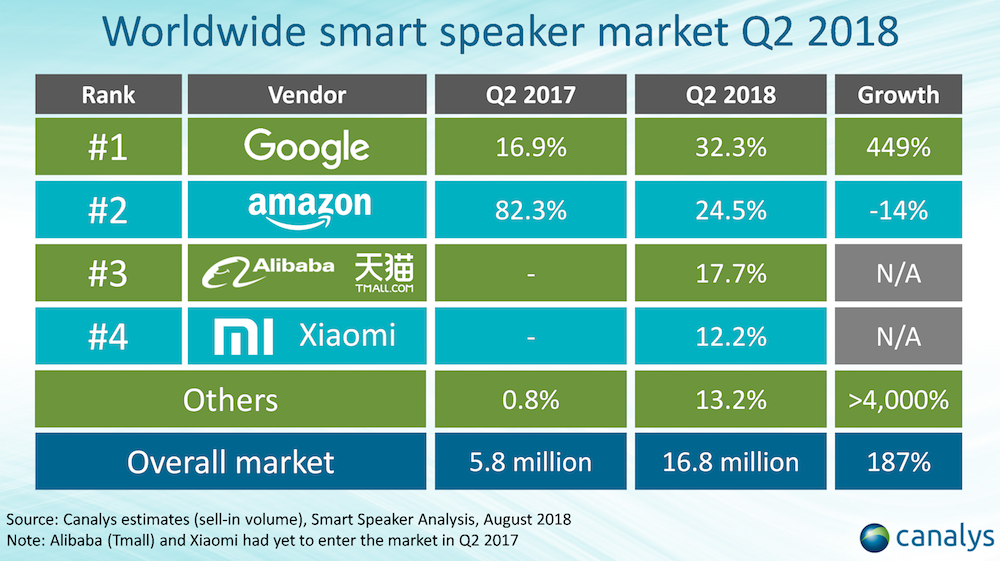 Google's global footprint for smart speakers exceeded Amazon's in the second quarter of 2018. According to the latest estimates from Canalys, Google's share leapt from 16.9% in Q2 2017 to 32.3% in Q2 2018. That growth helped the tech giant surpass Amazon, which Canalys estimates monumentally dropped its worldwide smart speaker share from 82.3% in Q2 2017 to just 24.5% in Q2 2018.
Overall, the analysis pegged the sector's growth at an impressive 187%, with 16.8 million units shipped compared to 5.8 million in the previous quarter. Google Home shipments reached 5.4 million compared with 4.1 million Amazon Echo devices.
Canalys anticipated that the smart speaker market will continue to see shifts as the devices gain popularity in China. The country contributed 52% to worldwide volume growth in Q2 2018, compared with 16% in the U.S.
"Although the real level of user demand for speaker products is currently unproven, China is on its way to overtake the U.S. in the near term," said Hattie He, research analyst at Canalys. "The challenge remains for local vendors to increase user stickiness and generate revenue from the growing installed base of smart speaker users."