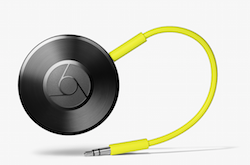 Most of Google's launch event yesterday was focused on its mobile devices, but the day had some good news on the music side. We already covered the new family plan for Play Music, but the company also launched a new piece of home entertainment tech. It's the Chromecast Audio, a variant of the Chromecast stick specifically designed for streaming audio.
The device supports music from Pandora, Rdio, Spotify, and of course Play Music. Owners of the Chromecast Audio can have a song running on those music programs from their mobile device or PC to a home speaker. The round black disc connects to the speakers with a regular audio jack. It offers more audio options than the basic Chromecast, which only connects to a television. The device costs $35 and is now available in 17 countries.
This is the latest in Google's push for a living room takeover. It kicked off the year at CES announcing wireless speaker software called Google Cast. With more and more music services partnering to get support on TV set-top boxes, video game consoles, and WiFi speakers, it's no surprise that a company working on both hardware and software is getting into the act from both sides.