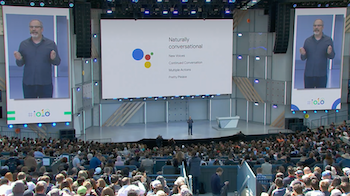 Today, several Google executives shared the latest updates for the tech company in the keynote for Google I/O. The developer-focused event shared some of the upcoming changes for the Google Assistant voice AI platform.
For starters, the team is working to make the actual voices more natural and more conversational. There will be six new voices added to Google Assistant starting today, and more are on the way. For instance, the dulcet tones of R&B singer John Legend will be a voice option later this year. Google's Scott Huffman said that Google Assistant will be available in 30 languages and 80 countries by the end of the year.
The other updates include a few feature developments. One is a top-requested feature called Continued Conversation, where the AI doesn't need the full "Hey Google" prompt for every additional query or request in a series. For example, after asking about what time a basketball game is, you can immediately ask a question about the starting roster and get a response. The tool will be available in the coming weeks.
Another related development is Multiple Actions. This is a feature where the Google Assistant is able to hear and parse more than one request at a time, even when the questions are asked with natural, conversational language. This feature is rolling out now.
Finally, there's a new option designed specifically for families with children. Huffman noted that parents both inside and outside the company have raised concerns that the simple command could lead to kids adopting bossier, more rude behavior in other social interactions. The new feature is called Pretty Please. With this optional tool, the assistant will only answer a query when it hears both "Hey Google" and "Please." It will also respond with feedback and positive reinforcement to those queries, praising the asker for being so polite. This feature will roll out later in 2018.