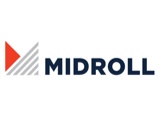 Podcast content and advertising company Midroll Media harvested $11-million in first-quarter revenue, according to the Q1 earnings call for parent company Scripps. How that haul filtered down to the bottom line was undisclosed in the call: "We're not breaking out profitability by business," said Laura Tomlin, SVP of National Business at Scripps. "But I would say we're really pleased with the profit that we delivered this quarter [for the company as a whole], and we expect revenue growth to continue for each business throughout the year."
Content milestones noted in the call was Wolverine, a highly produced audio drama produced in collaboration with Marvel Comics and distributed to subscribers of Stitcher Premium — Stitcher being a Scripps acquisition (from European music service Deezer) placed within Midroll. Laura Tomlin also noted the recently announced partnership with Freakonomics creator Stephen Dubner to co-produce that show and create new ones.
Midroll Media is part of the National Media division of Scripps. Other units within that division are Katz Networks (syndicated TV content) and Newsy (news videos). Total Q1 revenue for the National Media group was $60.7-million.