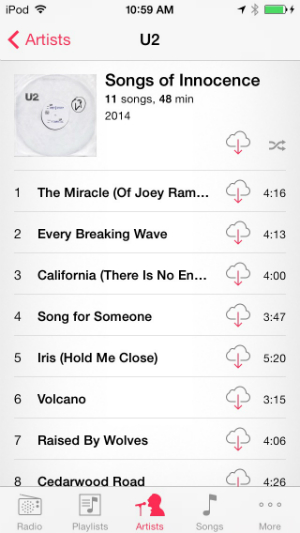 Apple's music platforms — iTunes and iTunes Radio — have issued innumerable album previews and exclusive releases. Promotions of those events seek to drive sales in an era when streaming is eating into music ownership. In the year since iTunes Radio launched last September, that online radio outlet has offered complete-album streams of several high-profile releases, including Eminem, The Black Keys, and Coldplay.
Taking the concept a step further, Apple bundled U2 — arguably the world's biggest band — into its new-product event last week, and released U2's new album, Songs of Innocence, globally. Crossing over from streaming to downloading, Apple dumped the album directly into iPhones, iPods, and iPads throughout its vast user base.
Generous? Yes; Apple reportedly paid the albums' rights-holders $100-million for the blanket license. Gratefully received? Not so much.
Or, in a more likely perspective, a vocal minority is stirring up outrage over their devices being invaded by unasked-for content. The phrase "U2 virus" is circulating, which is not the most gleaming public relations for the band and Apple.
The controversy illuminates a crucial Internet-ethos dividing line between pulling and pushing. Free content is well received when users can pull it into their devices, but pushed content resonates with hacking and malware for many. The U2 incident activates privacy concerns as well — in a time when smartphone users wonder how secure their phones are, Apple's manipulation of personal music collections feels, to some, like a privacy violation.
Most of the snarky Twitter highlights are too scatalogical for this work-friendly publication, but here are a few tame outbursts:
"Hey Apple! Next time you want to "gift" me music, just give me a damn voucher!"
"New U2 album shatters world record for 'Most Deleted Album.' Previous record holder Dave Matthews is furious."
"So Apple just had a complete failure. #U2Virus Time to buy a Samsung!"
"#U2 hasn't put out a decent album in 25-30 years and somehow I am being punished?"
"Evidence of how little we own our phone…"
To be fair, Apple placed the album files in each user's iCloud storage, ready for downloading. If your setting authorize automatic downloads, the files are in the device memory. As cloud access to music becomes standard, the difference between cloud access and local storage becomes nearly invisible.