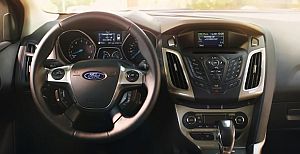 Ford, a veteran participant in the CES feeding frenzy, made a pre-pre-show announcement about its AppLink software that powers infotainment functions in SYNC-equipped cars. That's a lot of buzzwords. Here's what it means:
This is about connected cars and digital dashboards offering music in new ways. SYNC is Ford's proprietary dashboard technology, developed in collaboration with Microsoft. AppLink is software that enables voice control, and steering wheel button control, of smartphone apps like Pandora or Spotify. AppLink must be coded into the music app (it is coded into most of them), and it must be coded into the SYNC dashboard (it is not coded into some older dashboards).
The announcement is a bit vague (which car models?), but Ford apparently intends to put its arms around older SYNC cars and bring them into the AppLink fold. That's smart for Ford, and good for drivers, since AppLink enables safer control of the phone app while driving. The automaker estimates that 3.5-million cars will be eligible for the upgrade, which involves downloading the AppLink software to the SYNC dashboard.