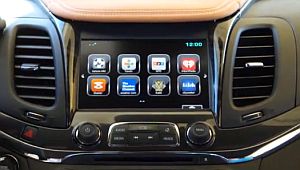 Chevrolet and OnStar teamed up for the second connected-car announcement of CES 2014. OnStar will provide high-speed (4G LTE) Internet connectivity in selected Chevy models. Along with the rolling Internet, Chevrolet will provide a bundle of built-in apps. A video tour of the dashboard reveals some of the audio selections in the app package: TuneIn, iHeartRadio, Slacker, and NPR. The 4G rollout will begin this summer in 2015 model-year Corvettes, Impalas, Malibus, and Volts.
With Ford announcing its AppLink upgrade on Sunday as well, the two titanic car companies show off their opposing connected-car strategies. Ford champions the plug-in model of connectivity, where the driver's smartphone provides the Internet connections and app package. Scott Burnell, Ford's global head of business developments, told RAIN: "With Ford and the brought-in solution, it's the user's app and they are already using it. It can connect to the vehicle, and work." Chevy takes the opposite path, providing everything in the car.
With nine automakers exhibiting at CES this year, the most ever, more digital dashboard announcements are probably forthcoming.