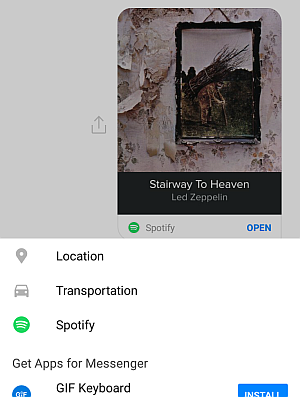 Facebook has added a Spotify tie-in to its Messenger app. It's the first music platform to work with the social network's messaging program. The updated version began rolling out to both iOS and Android this week.
With this new collaboration, there's a Spotify option under the More tab in a discussion. In addition to emojis and voice recording, there's a button that will open the music app to search. Pick a song, artist, or playlist and it will be sent to a friend via Messenger. The recipient can click on the link to open it in Spotify.
Facebook has been making inroads on audio from multiple directions. The social company has also been working with Deezer and NPR on developing audio products designed to appear in the News Feed.