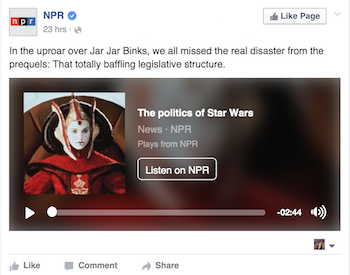 NPR has announced plans for an experiment in audio on Facebook. The broadcaster kicked off this push with a preview for users of the social network's desktop website and its most recent iOS app version. In this new format, listeners will be able to hear particular moments or stories within the Facebook platform. The posts will have links to listen to the entire segment or episode on NPR's website.
The broadcaster is running a preview this month, then will begin the full experiment in January. Once the campaign begins in earnest, NPR will publish audio clips to the social network at a rate of several a day for a whole month. A few of the test posts are already up. The first discusses the legislative structure of the newer Star Wars trilogy, and another features George Takei talking about his experience at an internment camp
This development shows that Facebook is indeed interested in having a native audio option. The two parties have been in conversation about this topic for years, so it's exciting to audio fans to see some results of all that lead time. WNYC, New York's public radio, introduced an independent take on this same concept with video/audio hybrids earlier this month.